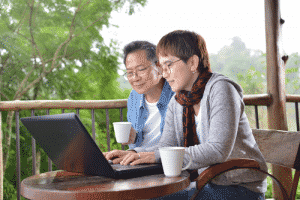 To live a long time and to live it happily may sound like an impossible dream. But I'm confident that you have the resources within you to make it happen.In times past, business moguls sacrificed everything to make it big – their health, their marriages, their family life, and often, their dreams and values. Personal happiness wasn't even on their radar. They seldom lived long or happily.
Fortunately, entrepreneurs today are learning that you don't have to be the hard drinking, chain-smoking, chronically stressed executive to be a success. They have discovered the wisdom of common sense self-care practices that are simple, but very powerful!
Since you've heard all of this before, I invite you to think deeply about whether your current choices are helping you reach your goal of a long and happy life. If not, pick one of the following suggestions to work on.
1. Don't smoke. Some people say, if they don't smoke, they'll eat and gain weight. Other people claim it's the only way they cope with stress. You can make excuses or you can find more healthful ways of staying trim and handling stress. It's your choice.
2. Avoid excesses – alcohol, fat, salt, stress, etc. When you take the time and effort to become more mindful about your choices, you'll feel better, plus you'll have the added bonus of feeling empowered, as you take back your life!
3. Maintain a lean body mass index. A person can be in the correct weight range and still be unhealthy, because they haven't kept their muscles toned. Muscle does weigh more than fat, so focus on feeling toned, rather than checking the scales.
4. Don't stop learning about yourself. Pursuing more education leads to better habits and healthier lives, if you focus on self-care and resilience skills.
5. Focus on the positive. If you feel your childhood messed you up, switch your focus to what went right. This shift in perspective makes a huge difference in your quality of life. And don't lose your sense of humor.
6. Build a loving, support network. A loving spouse and trusted friends can heal old wounds. Invite happy people into your life. Remove toxic relationships. You'll become happier when you focus on helping others.
7. Develop Radiant Empathy. Some people call it being socially adept. Others label it as emotional intelligence. I like to describe it as Radiant Empathy. That's when you can give to others joyously, receiving from others gratefully, and are strong enough to true to yourself.
Which one of these would you like to work on this year? If you'd like my assistance and live in Oregon or Washington, please take advantage of my online therapy. It's an easy way to learn new strategies and keep yourself motivated.