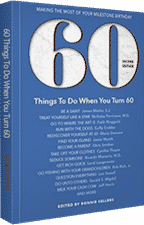 60 Things To Do When You Turn 60
by Kathy Marshack and other inspirational authors. Edited by Ronnie Sellers.
Dr. Marshack contributed to this collection of 60 sixty essays with, "Go Directly to Jail." Find out how humility and an unwelcome event can change everything.
Thanks to the generosity of the contributing authors, all of whom provided essays on a pro-bono basis, the royalties generated from the sale of this book will be donated to non-profit organizations dedicated to preventing and curing cancer.
Approximately 10,000 baby boomers turn 60 every day. Thats approximately 3.5 million people a year who will be celebrating this event in North America. We have the perfect gift of reading for the 60-somethings in your life. 60 Things To Do When You Turn 60 is a thoughtful, humorous, and sometimes provoking collection of essays written by people from all walks of life on the subject of turning 60.