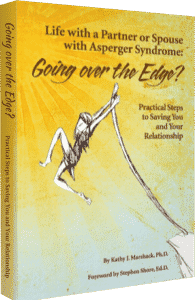 Going Over the Edge:
Life With a Partner or Spouse With Asperger Syndrome
by Kathy Marshack Ph.D.
Information on how to have a successful relationship with your autistic spouse! Delve into the dramatic impact autism spectrum disorder can have on the complex world of adult interpersonal relationships. In Life With a Partner or Spouse With Asperger Syndrome: Going Over the Edge? Practical Steps to Saving You and Your Relationship, psychologist Kathy Marshack shares poignant true stories based on her own life and the lives of her clients, focusing on how partners/spouses of someone with ASD can find true meaning and happiness. The author discusses sensitive issues and shows readers how to take control of their lives, avoid or grow away from dysfunctional behavior and dysfunctional relationships, and create a successful relationship with their spouse on the spectrum. Each chapter closes with a series of Lessons Learned that recap the main points of the chapter and offer new ways to look at these very unique challenges. Foreword by Stephen Shore, EdD.
---
To receive a complementary copy of a chapter from Going Over the Edge, subscribe to our newsletter below. We'll give you instructions to get your free download.
---
In praise of Going Over The Edge
"Going over the Edge? is a powerful illustration of the complexities of intimate relationships between individuals with autism spectrum disorders and their neurotypical partners. Dr. Marshack brings great clarity to the dynamic influences that shape these relationships … for better or for worse. She has brought stature to a voice from the autism community that has been waiting to be heard. Many family members and partners will appreciate the cathartic nature of her work, and professionals will find a depth of insight and feeling that is rarely articulated so well. Pay attention to every word of this book. There is nothing else like it!"— Sherry A. Moyer, B.S., Asperger Syndrome consultant, NHS Human Services, Pennsylvania
"With vivid examples drawn from years of professional practice and life experience, Dr. Marshack expertly guides the reader towards success in marriage when Asperger Syndrome is present. Full of practical tips, the major lesson learned from this book is that learning to interface between the different 'operating systems' of spectrum and non- spectrum partners leads to better communication with greater mutual understanding and satisfaction. Highly rec- ommended to all seeking to learn more about Asperger Syndrome and long-term relationships." — Yi Liu Shore