Click on a Book to get More Information and Download a Free Chapter
All of Dr. Marshack's Books are available at Amazon.com.
---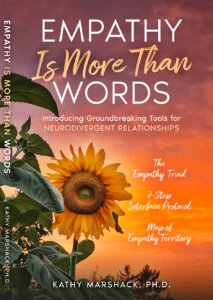 Empathy is More than Words:
Introducing Ground Breaking Tools for NeuoDivergent Relationships
Available Now!
Dr. Marshack introduces three innovative concepts: the Empathy Triad, the 7-Step Interface Protocol, and Radiant Empathy.
The Empathy Triad is the stunning new tool she created to help NeruoDivergent couples communicate effectively. It represents the relationship of Empathy, Context, and Conversation and illustrates why Empathy is more than words.
            Radiant Empathy is True North—the highest degree of Empathy achievable. It is key to navigating heartbreaking relationships with those who have Empathy Dysfunction, or EmD. Autism, narcissism, a TBI, alcohol/drug abuse, or the missteps of an Empath can all cause EmD. Radiant Empathy is the ability to deftly integrate courage and wisdom to transcend the heartache of a NeuroDivergent life, achieve sanity, and reboot your life.
Why do kind, empathic NeuroTypicals (NTs) fail to connect with their NeuroDiverse loved ones? They are attempting to use the Empathy Triad Sensitive approach to connect with the NeuroDiverse (NDs), who are the opposite, Empathy Triad Blind.
Dr. Marshack has conceived a breakthrough solution to use when these worlds collide: She offers the 7-Step Interface Protocol. It can start you on your way to Radiant Empathy by bridging the psychological divide between those in a NeuroDivergent relationship.
---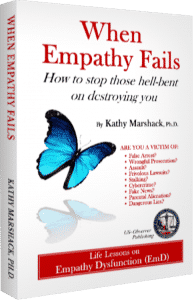 When Empathy Fails:
How to Stop Those Hell-Bent on Destroying You
Have you ever felt victimized, been swindled or lied to by your best friend? Loaned money to loved ones who squandered the gift and never paid you back? Had to fight unscrupulous prosecutors for your freedom? Been forced to defend yourself from a vengeful ex or ungrateful children? Bumped into a beguiling, but shifty, stranger?
If so, you've crossed paths with someone operating with Empathy Dysfunction (EmD). In this book, psychologist, Dr. Kathy Marshack, helps you not only understand why this is happening, but how to protect yourself from those hell-bent on destroying you.
---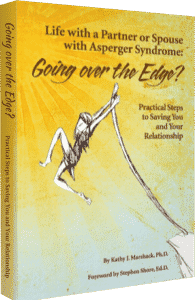 Going Over the Edge:
Life With a Partner or Spouse With "Asperger Syndrome"
Information on how to have a successful relationship with your autistic spouse! Delve into the dramatic impact autism spectrum disorder can have on the complex world of adult interpersonal relationships. Psychologist Kathy Marshack shares poignant true stories based on her own life and the lives of her clients, focusing on how partners/spouses of someone with ASD can find true meaning and happiness. The author discusses sensitive issues and shows readers how to take control of their lives, avoid or grow away from dysfunctional behavior and dysfunctional relationships, and create a successful relationship with their spouse on the spectrum.
---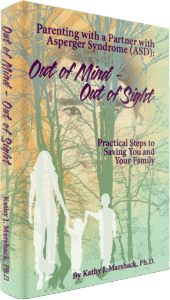 Out of Mind—Out of Sight:
Parenting with a Partner with "Asperger Syndrome" (ASD)
Author Kathy Marshack, Ph.D., takes an honest look at the unique issues that come up when you're co-parenting with an "Asperger partner." It's a tough assignment because for the "Aspie" (ASD) parent so many of the interactions within the family circle, that require empathy, are literally out of mind – out of sight. This is essential reading for the Neuro-Typical (NT) parent to learn more about "Asperger Syndrome" and find a way to co-parent, co-exist and even thrive within the "Asperger"/NT family unit. Author Kathy J. Marshack, Ph.D, is a licensed psychologist with more than 33 years of experience as a marriage and family therapist, and a parent of a daughter with AS.
---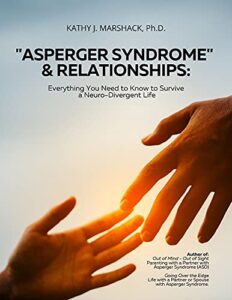 "Asperger Syndrome" & Relationships:
Everything You Need to Survive a Neuro-Divergent Life
This little eBook may not have everything you need to know, but it is a great place to start.
Why? Because I have collected the most popular of my blogs from over a decade of blogs. Readers have told me that these blogs are refreshing and down-right lifesaving.
They can read, and relate, and get answers to the mysteries of life with an adult on the Autism Spectrum. I have included readers' comments after each blog chapter.
---
Entrepreneurial Couples:
Making It Work at Work and at Home
Caught in the squeeze of trying to maintain two careers in today's tough corporate climate, more and more couples are giving up their jobs in order to start their own businesses.
Whether they work together in a business or are each owners of a separate enterprise, these entrepreneurial couples face a daunting task–balancing the competing demands of love and work. "The couple bond is a significant element in the success of entrepreneurial businesses," says psychologist and business consultant Kathy Marshack in Entrepreneurial Couples. "Not only do these partners negotiate with each other for love, sex, status, and support, but they also depend on the relationship for their own self-definition."
---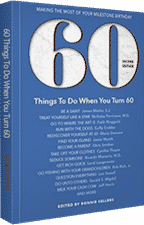 60 Things To Do When You Turn 60
Dr. Marshack contributed to this collection of 60 sixty essays with, "Go Directly to Jail." Find out how humility and an unwelcome event can change everything.
Thanks to the generosity of the contributing authors, all of whom provided essays on a pro-bono basis, the royalties generated from the sale of this book will be donated to non-profit organizations dedicated to preventing and curing cancer.
Approximately 10,000 baby boomers turn 60 every day. Thats approximately 3.5 million people a year who will be celebrating this event in North America. We have the perfect gift of reading for the 60-somethings in your life. 60 Things To Do When You Turn 60 is a thoughtful, humorous, and sometimes provoking collection of essays written by people from all walks of life on the subject of turning 60.