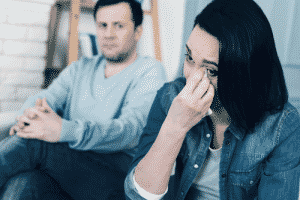 Chaos is defined as a state of utter confusion. Isn't that exactly how the partners in an ASD/NT relationship feel? They both are utterly confused by the other person's reactions. The NT partner is usually unprepared for the emotional devastation that can result from their Aspie's logic. And the Aspie partner can't understand why the NT partner is upset.For example, here is a vignette from the lives of an ASD/NT couple I counseled in the past. Of course, their names have been changed to protect their privacy. See if you can relate to their confusion…
Marilyn, a NT wife and mother of four, was very excited when her Aspie husband, Eddie, finally agreed to spend money on a family vehicle. It was a fairly luxurious van with video screens for the kids in the back seats. Marilyn was so happy.
But then Eddie told her the new van was his to drive to work since they had traded in his car. His reasoned that her car was still in good shape, and he deserved the newer van. Marilyn conceded but asked if Eddie could turn over the van at the end of the work day or on the weekends, so that she could drive the kids to soccer practice and piano lessons. Not exactly what Marilyn had had in mind, but it was an acceptable compromise.
The next weekend she decided to use the new van to run the kids to a soccer match and a birthday party. To her surprise, Marilyn discovered that Eddie had removed all of the seats except for the driver's seat! His reason? Since it was his car and he needed lots of space to carry all of his stuff, why bother with passenger seats? Zero degrees of empathy.
Rather than capitulating, detaching or compromising when you're confronted with this type of Empathy Dysfunction, I suggest you prepare yourself to expect it. Somehow it is comforting to me that my life with Aspies is predictably chaotic. By surrendering to the reality that they will never get me – and that I cannot be prepared for every Aspie oddity – I can let things go when they become out of control.
This is an important healing step. We can only do so much, and changing autistics is not one of our gifts or responsibilities. We can't defend against the chaos either. Just about the time we have some well deserved rest, something always flares up, doesn't it?
If you're a member of my Asperger Syndrome: Partners and Family of Adults with ASD Meetup, I invite you to sign up for our video conferences. We talk about how to achieve this state of acceptance, so that we can move on to healing ourselves – not them – but the most important person in your life – YOU!
If you prefer 1:1 counseling, I also offer online therapy if that works best for your busy schedule.