Empathy is required to take responsibility. 
"Take responsibility for your actions." How many of you heard these words as a child, or uttered them as a parent? Mom knew what she meant. You know what you mean. But does your ASD loved one? Have you ever wondered why you even have to say this to an adult (or think it)? How often do you wonder why your ASD adult doesn't seem to take responsibility for their own behavior? 
When one of our members, Julie commented in our recent video conference on the topic of "Fatigue is Normal in ASD/NT Relationships," she was referring to the mental fatigue of constantly rearranging her life for her two Autism Spectrum family members. Among the many things she finds fatiguing is that ". . . My husband takes no responsibility for his behaviors. . ." 
I agreed right away with her comment because I have experienced the same dilemma,  but then I wondered what it means to "Take Responsibility for Your Actions." Think about it.  We NTs do this all of the time. To take responsibility for our behavior, or our actions means to consider HOW our behaviors affect others. In order to do that, we have to anticipate how others might feel or think about our actions. We have to assess how the relationship will be impacted by our words and deeds. We have to care about these things too — because of caring means we try harder to keep the relationship healthy. 
This sounds like empathy to me. Empathy is to care enough to anticipate how the other person will feel before you take an action or speak a word. Empathy is to care enough about the other person's feelings to recognize they may be affected by our behavior before or after the fact. Empathy is to apologize when our behavior is unhelpful or damaging. In fact, empathy is going so far as to repair the rift we may have caused.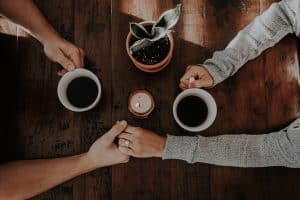 Since our "Aspies" do not have empathy (as defined by the Empathy Triad) they don't take responsibility for their actions. Without empathy, they don't anticipate our feelings, nor recognize our feelings, nor apologize for their conduct, nor attempt a repair for our distress (or confusion, hurt, annoyance, etc.). They might care at some level, but they do not demonstrate it by taking responsibility for their actions. 
Instead, they assume all is well because they mean well. "Aspies" struggle to understand that their good intentions are not enough. It's a start to have good intentions certainly. But as  my mother used to quote an old aphorism, "The road to Hell is paved with good intentions." To take responsibility for one's behavior (as Julie noted) requires the empathy to use your good intentions to clean up the mess you inadvertently created. It's not that you are a terrible person for causing distress to the other person. It is caring to use your empathy skills to repair the emotional connection that means so much to others. It is this empathic behavior of taking responsibility that is so important to respecting, honoring, and loving the other person. 
Without empathy, our "Aspies" seem not to take responsibility for their actions. These are the common phrases that we often hear from them, which denote this lack of empathy and  no attempt to repair the damage: 
"What do you want from me?" 

"If you didn't want to know my opinion, why did you ask?" 

"Why are you always complaining?" 

"Why didn't you tell me that you wanted

that

?" 

"You never said

that

." 

"It's not my fault. You didn't tell me." 
Need I say that these phrases are stupefying for NTs? We would never say these things.  Our empathy circuits make us evaluate the situation and try to resolve the unpleasantness. We want to keep the connections with our loved ones whole and healthy. So, we look at ourselves and how we can do better. Not so with our "Aspies." 
Can Awareness substitute for Empathy? 
In stark contrast to Julie's revelation, I have received many angry messages from  "Aspies" who are incredulous that I would say they have no empathy. They describe themselves  as "highly sensitive." In fact, one woman describes herself as so sensitive that, 
". . . I am so bombarded with strong feelings/discomfort/sensory overload, I feel unable to sympathize with others, even when they need me to be. I get frustrated with them and believe my needs are greater since they physically/emotionally feel like they're killing me. But I wonder, am I unable?" 
This woman's subtle awareness is significant. She is wondering about her ability to empathize. She muses that perhaps awareness can substitute for empathy or even lead to empathy. It is something to consider. But I think there is no substitute for the intrinsic ability to rise above one's own feelings and really listen to the heart of another person. 
In response to my blog, "Empathy: 'Asperger's Style'" she ends her comment  with this very poignant observation: 
"As much as this article was uncomfortable to read, it opened my eyes to the realization that I almost never think about what I might put my parents/siblings/friends through  when I push for autonomy and express my needs/wants, but fail to remember theirs are just as important. . ." 
Yes, I do think awareness helps. "Aspies" like this woman want to be understood for the autistic features that make their lives so fraught with complications. It is equally important for  "Aspies" to understand that NTs can only handle so much self-absorption and emotional disconnect. I concur wholeheartedly with the woman's final comments when she alludes to the  fact that awareness at least can be a start: 
". . . I have obviously been hypocritical in the past and hope to do better in the future.  Thank you for sharing your insights. I hope that by mutual understanding/respect/love  NTs and Aspies can learn to live/love one another in more compassionate ways, too." 
Taking responsibility is a moral choice. 
You will find more about this topic in my upcoming book "EMPATHY: It's More Than  Words." It's a moral choice to take responsibility for your actions, whether that is motivated by  conscious awareness or empathic "knowing." Both might be valid ways to get to the loving connections we all desire – NT and "Aspie" alike. 
I would like to hear from you regarding this complex topic. Let me know what you think about the connection between awareness and empathy and taking responsibility for your actions.