THE SPAN OF LIFE by Robert Frost
"The old dog barks backwards without getting up.
"I can remember when he was a pup."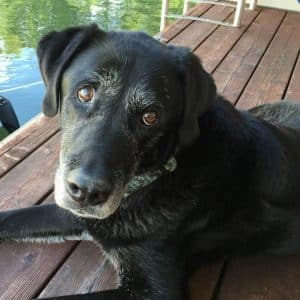 Thanksgiving was the day 2020 ended for me. 
I meant to write this blog by Christmas, but I needed more time to tell you this story. I  needed more time to adjust to 2020, the year of incredible sorrow. This year has been like a  giant tornado of chaos, hasn't it? Just when you thought your life would calm a bit, another earthquake or fire – or death emerged. And each setback, sent me reeling into the unknown. I  have never in my life been through a year like this. 
However, out of the chaos is an opportunity to take back your life – or perhaps it is better to say that we can build life anew. That's what Simon's death has meant for me. 
For me, 2020 ended the day my dog Simon died. It was Thanksgiving Day. At the time I  was so traumatized that all I could feel was anguish, unbearable, gut-wrenching anguish. I felt cold and scared and totally alone. I had no one to comfort me. I had nowhere to hide from my feelings. I had no one to listen to my excuses for what I had done. I had never taken a life before. God, I was wracked with guilt and grief. 
I had an impossible time believing that Simon would not get better, even when he stopped eating and my Vet told me all she could do was keep him comfortable until I was ready to make "the call" — the call to the Vet who euthanizes animals. She gave me literature to read on how to know "when it is time," but I ignored it. She reminded me that Simon couldn't make  this decision on his own; that it was up to me to do "the right thing." She was kind but firm.  "No," there was nothing else left to help him, she confirmed. 
When Simon refused his meds and supplements — and he hadn't been eating in days – I  realized it "was time." I looked at his sweet face, patiently sitting with me as I tried to get him to eat. Finally, I caved. "OK, Simon. Go ahead, honey, and go back to bed. I guess this is it, isn't  it?" I said with resignation. Simon walked slowly over to his bed and found a comfortable spot for his stiff and weary body. He sank into his bed because he couldn't hold himself up anymore. 
I started to walk away from him but I turned to see him eyeing me with that look of anticipation he always had when he needed to know if I was OK with his decision. It seemed to me that he was saying, "I'm done. I'm tired. I don't want to go through anymore. Just let me  sleep." 
I smiled back at him and said, "It's OK Simon. I love you." He looked comforted by my words. 
I walked back to the kitchen with Simon's uneaten food and meds. I rested my hands on the sink for a moment to steady myself. Silently I dumped the contents of the bowls into the trash. I knew I wouldn't try anymore. I felt numb.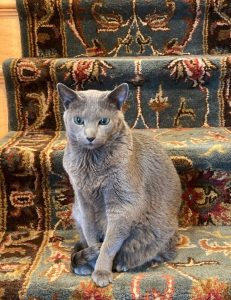 I left the kitchen and walked into the living room, where I found Neo, my 16-year-old Russian Blue cat. Neo was such a lover. He greeted me at the door when I came home each day.  He especially liked to snuggle under the covers with me at night. He was always first in line for cat treats. He loved sunning himself on the upper deck. And he always had a childlike curiosity,  even on his last day of life. I adored my darling little Neo. 
Like Simon, Neo also endured a plethora of meds and supplements that I popped into his mouth several times a day; although he didn't mind home visits from Dr. Rita who gave him chiropractic and acupuncture. He had a royal diet of raw cat food. His favorite was rabbit. But age and disease had ravaged his body too. He only weighed in at about four pounds by Thanksgiving, down from his usual 13 pounds. 
After cuddling Neo for a moment, I went to my home office and texted the only person I  knew on Whidbey Island (Jodi) to ask for a local Vet to help me. I had just arrived on the island the day before, with all my worldly belongings and my four animals. I sold my Portland home and wanted to start fresh on this lovely island in Puget Sound. I rented a little beach house,  thinking it would make a good landing spot until I could find my next home. But I also secretly hoped that leaving Portland (the scene of so much heartache for me) would somehow restore  Simon and Neo to better health. I didn't want a miracle. I just wanted a beautiful and calm environment for all of us to heal. 
The terror behind PTSD. 
Without going into more detail, I want you to know that Simon and Neo passed graciously and peacefully. But it took me many more days to realize the significance of their lives and their deaths. I fought the pain. I blamed myself. I had a constant headache and my thinking was fogged. Eventually, though I decided to honor their passing and face my worst fear.  
As the fog lifted, I felt the terror for the first time. I couldn't stay numb forever. I  couldn't pretend that I was simply afraid. No, I was terrified. Once I couldn't deny any longer that I was not in control, that I had no answers, that I couldn't bring Simon and Neo back, nor could I have prevented their ultimate deaths – and that I had no idea how I would carry on – I  felt the terror with all of its force. It was shocking. 
Stay with me for a momentary sidebar, because this is important for any of you who have PTSD (Post Traumatic Stress Disorder). PTSD is an odd diagnosis since it is a rare disorder that is considered a normal reaction to abnormal events. In other words, PTSD is what normal, healthy people do/feel when faced with a life-threatening event, or they fear for the safety of loved ones. 
It is the terror that survivors fight to suppress with denial, psychic numbing, self-recrimination, and rescuing others from their worst inclinations. To feel the terror means that you know for a fact that you are helpless to correct the losses and devastation rolling your way (whether it be the pandemic or the deaths of beloved animals). Once I accepted that what I was feeling was terror, I could trace it to the traumas in my life. Simon's death triggered those traumatic feelings, causing a cascade of retraumatization (both remembering the past traumas and feeling the traumatic feelings all over again — as if it is happening now). You see, traumas can't be resolved neatly. They can only be accepted. And that means the feeling of terror surfaces over and over again with each loss. PTSD is not curable, but with spiritual awakening, survivors can manage their retraumatization a bit better.
"For survivors of trauma, one thing that keeps us going is to believe that we can learn from our mistakes and do better next time. We take on huge responsibilities for the lives of others in our mistaken belief that all we have to do is try harder, do one more thing, take on the impossible. In other words, I felt guilty for letting Simon go because I clung to the irrational belief that I could save him. Better to believe that than to feel the terror of past traumas, or so I thought.
Out of Limbo and into Life.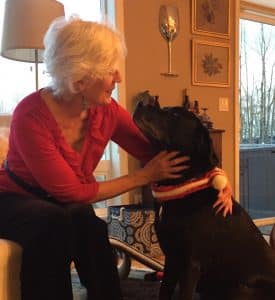 A couple of weeks after Simon's death, I awoke with a headache — just a headache and not uncommon for me, when I am going through such a powerful transformation. I got out of bed and took a couple of Excedrin, which quickly dispatched the headache, but also left me wide awake. So, I opened the New York Times on my tablet, and read the first column that got my attention, 'Numb' and 'Heartbroken,' the U.S. Confronts Record Virus Deaths (December 10,  2020). 
Obviously, I could resonate with the column. I too felt numb and heartbroken. I have many losses to grieve and yet I am grieving again. But I also recognized in this news column that  I am not alone. The authors stressed this for their readers. They wrote about how the pandemic has changed our focus in life. Yes, it is important to protect oneself from the exigencies of the pandemic, but it is also important to love and forgive and reach out to those who need to know they are not alone. 
The following quote from the column is particularly poignant because it brought into my awareness not just the fragility of the human experience – but the power and majesty too. 
"The new daily death record – 3,055 individuals who blew out birthday candles, made mistakes, laughed and cried before succumbing to the virus – far surpassed the spring peak of 2,752 deaths on April 15 and amounted to a stunning embodiment of the pandemic's toll. In a single day, the country, numbed and divided, lost more Americans to the coronavirus than were killed in the Sept. 11th terror attacks or the attack on Pearl  Harbor." 
My mistakes and my trauma pale in comparison to the suffering going on in the world during this pandemic. Nevertheless, I am grateful for my old dog, who taught me that the only thing I need is love. What Simon's death reminded me is that it's the mistakes that make us human – and forgiving ourselves and others those mistakes. God made us this way, not as a  punishment, but as a way to help us learn lessons and grow from them. If we didn't have free will (to make those mistakes) we would never understand the importance of loving each other. 
As these truths washed over me, I also felt marvelously freed. I didn't feel afraid anymore. I didn't feel guilty either. Yes, I want one more walk with Simon and one more cuddle with Neo. Yes, I miss other loved ones every day. But I am not to blame. I am healing and I am on a mission to help others heal. This is what Simon's death taught me.  
Dear sweet Simon. Even in death, he protects me – and his angelic love guides me.
P.S. 2020. 
I am certain that you all have stories like mine and I would love to hear from you. Was there a pivotal point in 2020 when you had enough? When you fell to your knees and thought you couldn't go on? When did you regain the courage to take back your life? Or if you are still in the fog let me know how I can help you. You don't have to go it alone. Not anymore.