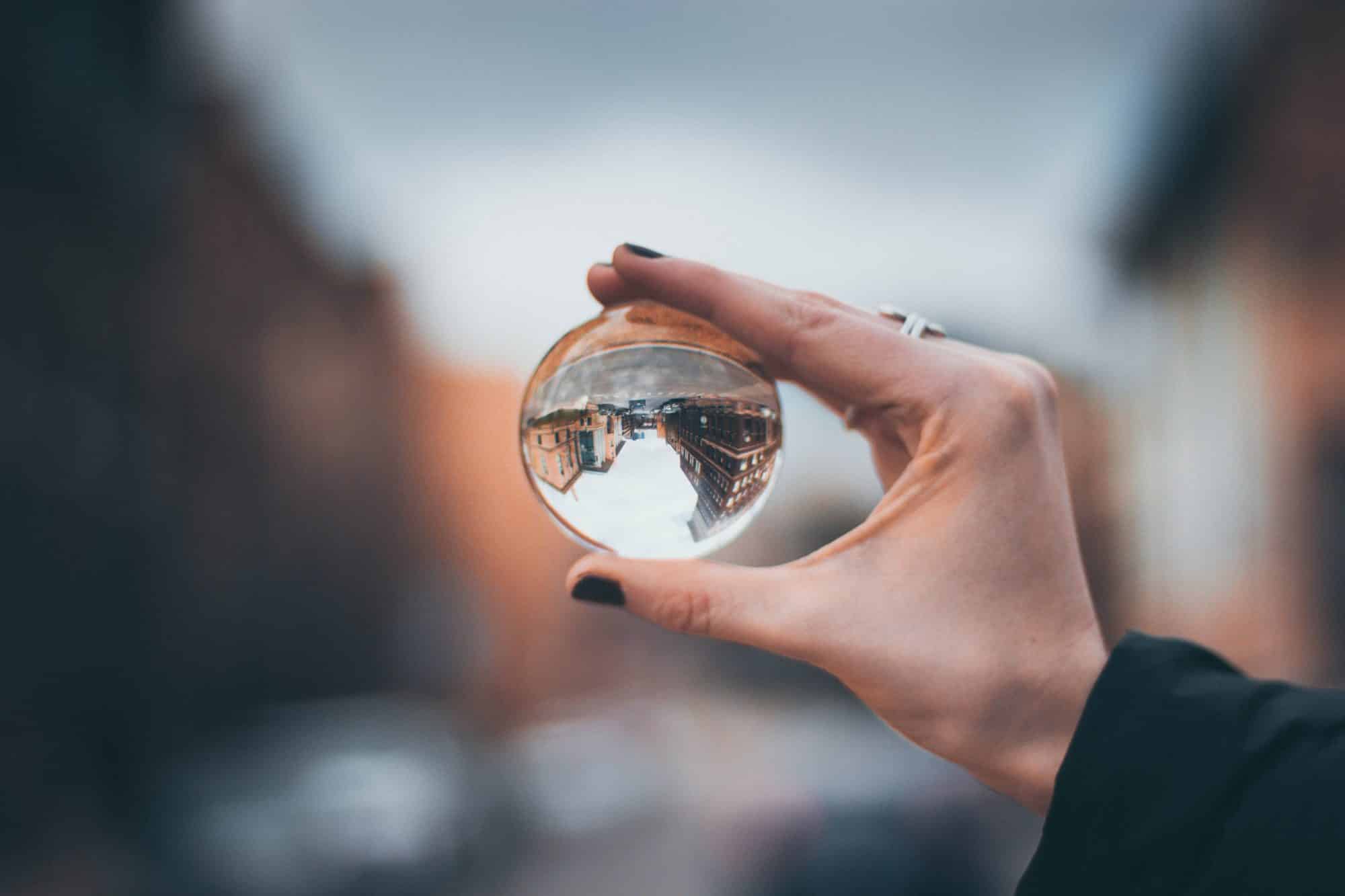 We have all heard those assumptions about what a person with "Asperger Syndrome" should look like or do. For this blog, I want to talk about those myths that are not necessarily true. I've asked our international MeetUp community about the most frequent phrases they hear from their family and friends. Below you can find five of them:
1. People with ASD are geniuses
How many times have you heard people noticing in awe how smart people on the Spectrum are? They are indeed smart in their area of interest. They are often scientist or computer geniuses. However, because of the lack of emotional intelligence, they can make bad decisions in their daily lives.
Jill [name changed to protect privacy] described this in the best way, so I will quote her here: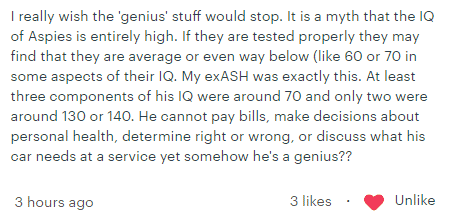 2. Their actions are not intentional, so those actions should not hurt you
Someone with "Asperger Syndrome" is characterized by their lack of communication skills, social skills, and reciprocity of feelings. The "Aspie" knows what they think and feel but are often unaware of what others think or feel. In most cases, they hurt their loved ones because of these characteristics.
Neurotypicals in relationships with "Aspies" feel alone, depressed, and socially isolated. They suffer from numerous stress-related chronic illnesses, because no one really understands what they're going through.
Actions and words hurt. Just because someone had not intended to hurt you, doesn't mean that you are not feeling hurt. You are entitled to your feelings and you shouldn't allow other people to tell you how you should feel.
You will have to be the bridge between your "Aspie" and the rest of the family. How can you do this when you are constantly in a war with him/her? There are a few ways and I wrote about them in "Living with an "Aspie" Partner":
Learn the art of detachment in an ASD/NT relationship

Tend to your emotional self-care

Educate yourself
If you feel lonely, perhaps this article I wrote "How Do You Survive the Loneliness in Your NT/AS Family?" will be useful to you.
3. They are all the same and you'd recognize them
"You would know if he was Autistic, it would be obvious", someone told Amanda [name changed to protect privacy] from our MeetUp group. Nita [name changed to protect privacy] also mentioned:

We tend to generalize sometimes and while all people with "Asperger Syndrome" have some common characteristics, everybody is their own person. Generalizing that all of them have fantastic computer skills is not accurate.

4. They can't learn better behavior
I said this many times and I strongly believe that those with "Asperger Syndrome" can be taught etiquette and rules, or what I call Rules of Engagement (ROE), but only if they accept that something is not right and they want to improve.
Maria [name changed to protect privacy] makes a good point below: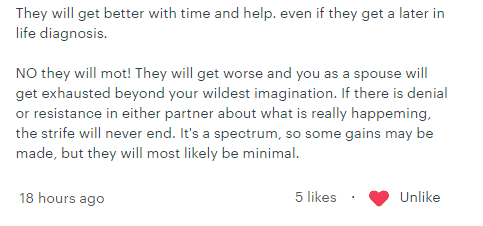 If you struggle to make yourself heard, I wrote "How to Speak to your 'Aspie' so They Listen and Understand", where I give a few tips on things to do or avoid when talking with your partner. Sarcasm and metaphors won't be welcomed and it would be better if you are straight forward and you say exactly what you mean.
5. They look put together, so everything is all right
In the screenshot below, Maria makes another good point. Behind every "Asperger" person, there is a busy spouse who helps run the house and the family.

How do "Aspies" and neurotypicals get together if there are so many problems? Just like any other couple. I wrote a short blog on this topic.
It is important to remember that "Aspies" do love. They just love in a different way. The marriage will be trying, but some things can be done to help the relationship. If you are in a marriage with someone with "Asperger Syndrome" and want that marriage to succeed, you must learn how to understand your partner.
These five myths are just a few of the most repetitive myths our MeetUp community hears daily. What other phrases can you add to this list? And tell me how you cope?