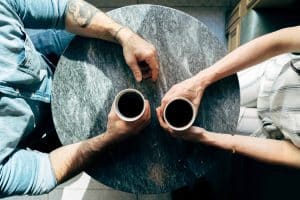 Someone with "Asperger Syndrome" is characterized by their lack of communication skills, social skills, and reciprocity of feelings.
The "Aspie" knows what they think and feel but are often unaware of what others think or feel. With a deficiency in these critical areas, some have wondered how someone with "Asperger's" develops an intimate relationship or even gets married.
The answer is simple, "Aspies" do love. They just love in a different way. We tend to unconsciously seek mates who have qualities we lack. It's not so surprising really that "Aspies" seem to attract the ultimate nurturers. You know, the kind of person who is kind, self-effacing, open-minded, understanding, willing to carry a heavy load for their loved ones. It shouldn't be a bad thing, should it? To be a loving light to others is absolutely the perfect gift.
The NT (neurotypical – the one not on the spectrum) may be attracted to the unconventional nature and child-like charm of the AS adult. They may sense that the "Aspies" will allow the NT his or her independence. It's only later that they learn their AS partner isn't supporting independence. He or she is just not aware of – and may even be disinterested in – the NT's interests.
So the trick is to remain this loving light even under the pressures of living with "Aspies" who don't acknowledge the support you're offering. My belief is that self-care is in order if you're going to accomplish this task. Dig deeply into your insecurities and purge them. Accept yourself for the amazing, beautiful Soul that you are.
It's also possible to help our loved ones on the Spectrum do better by us. They need instructions in what I call the Rules of Engagement (ROE). They can certainly learn to be more polite and attentive, just not empathic.
If you live near Portland, OR/Vancouver, WA, and desire counseling, please contact my office and schedule an online appointment.