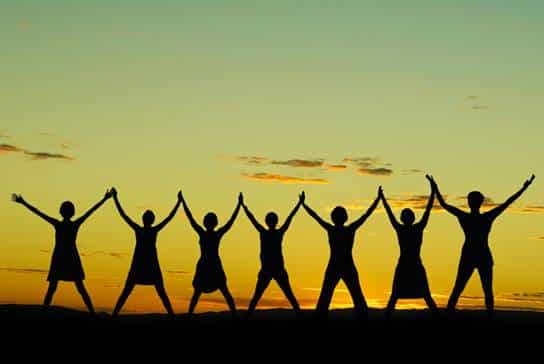 Have you had a conversation with a young person about what we see going on in the news today? Are they concerned or bewildered when they see how deep corruption, greed, and abuse of power runs in our society? If you're a parent, a teacher, a grandparent, or mentor to the next generation, you want to give careful thought about the message you're passing on to them.
Isn't it true that we tend to think of ethics, and a sense of justice, as inbred qualities every person has from birth? And yes, we are born with a conscience and a sense of fairness. But ethics and justice go deeper than that. For one thing, true ethics and social justice go beyond standing up for your own self. Ideally, they lead to standing up in defense of others. A deep sense of justice should motivate you to defend those who don't have the ability or the opportunity to defend themselves. It takes real courage to stand up against a flawed institution.
Think about the #MeToo movement. There are many brave women who have stood up and come forward to reveal their experiences with abuse of power. But an equal number, if not more, of men and women who have not personally experienced abuse, have chosen to stand up right alongside them, helping lend strength to their voice. There are situations where one woman has become the public face amidst a sea of anonymous accusers, giving more credibility to the accusations.
Why is this culture of abuse and sexual harassment so prevalent in the first place? Because for years, sexual harassment was viewed as "normal." Almost every woman has experienced some sort of unwanted sexual advances. It has gotten to the point where many women consider it a part of starting and advancing in their career. And many men come up in universities and corporations being led to believe that with power and prestige come the freedom to do whatever they want.
The issue of ethics and social justice are taught skills and qualities. Most young people haven't yet been exposed to the corruption that is possible with unlimited power, money, and other resources. They have no experience dealing with these issues. It is our job as parents, educators and mentors to prepare them for what lies ahead in their careers and lives.
How can we help the next generation to create a world where there is no #MeToo?
Create and enforce boundaries. It is absolutely vital that children learn to establish and enforce personal boundaries. They must learn that no matter how much power or influence the person asking has, they have the right to control what they do and allow others to do to them. Children must learn to stand up for themselves, even in the face of powerful people. Also teach them to respect other people's physical and emotional boundaries.
Discuss and deconstruct gender roles and biases. There is nothing wrong with boys playing with trucks and girls dressing up like a princess. But make sure your kids know that they don't have to fit into a certain box based on their gender. They can't expect other kids to act a certain way or prefer certain things based on their gender, either.

Engage young people in meaningful discussions.

Sexual harassment sadly

begins early

. Students experience it, and those who don't, will hear about it on the news and through social media. Educators should engage their classes in conversations on the topic. Ask students questions, let them express themselves. This helps young people see that sexual harassment is not a taboo subject. It is something that can and should be

discussed openly

.

Teach young people to be each other's allies, not just bystanders. Help the children in your life learn how to act as allies and support their peers when they see something. Teach them "ally behavior" – supporting the victim by saying something in the moment to try to stop the situation or telling a trusted adult about what happened.

Show them they are not alone.

It is well known that someone is more willing to report a crime or challenge authority, if at least one other person joins her. So communicate with your children and make sure they know they have someone in their corner. School administrators and counsellors can create a culture in which students feel comfortable reporting problems by being approachable and showing empathy when students come forward.
Could you use some help engaging your children in discussions about sexual harassment and helping them navigate through this tumultuous world? Or perhaps you're coming to terms with experience that in hindsight feels like abuse? Contact my office in Jantzen Beach to schedule an appointment. With the pressures and time constraints of work and school, you may want to advantage of my online therapy option.
Make sure to sign-up for my newsletter to kept updated on the release of my newest book, "WHEN EMPATHY FAILS: How to stop those hell-bent on destroying you." If you've felt powerless in the face of abuse by someone with severe Empathy Dysfunction and are ready to take back your power, please grab a copy as soon as it's available.