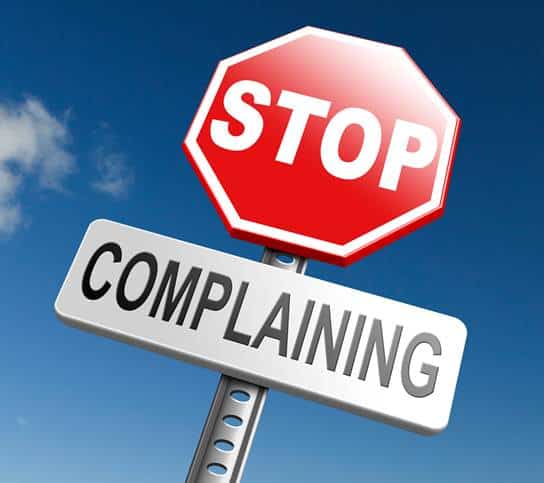 Stop complaining? But it feels so good to complain! It helps you get things off your chest, feel heard, and start working towards a solution. Your business moves forward when you identify problems and communicate about them. Or does it?
The reality is that complaining has become a knee-jerk reaction to anything we don't like.
We complain about the weeds in our yard, our pants that have become too tight (as we sit there eating a cookie), the high cost of living, and the trials of running a business. As a society, we have become
quick to complain
and slow to change.
There are times, of course, when "complaining" or notifying someone of a problem or injustice is a good thing. Discussing a problem with a team of people can help solve it faster and more effectively. However, most of the time our expressions of pain, dissatisfaction, or resentment are simply reactions to a perceived issue.
What's wrong with complaining? Simply put: it doesn't do anybody any good. It won't solve your problem. It won't make you feel better. It will waste your time, time you could have spent working on a solution. Complaining also fosters a negative attitude in you and the person listening to you.
Another problem with complaining is it relegates you to perpetually being a victim. The more you complain, the less you feel in control of your life and your business. As an entrepreneur, you have worked hard to be in control and lead your company to greatness. Complaining takes away some of that power you have.
The most common response to obstacles involves a mental process where we solely consider possible external or technical reasons for the problem. What kind of obstacles do you encounter in your business path? Is your first reaction to find an outside source for the problem? The product isn't good enough. My competition has better advertising. The economy isn't doing well. The more you think like that, the less control and power you have over your problems.
Let's look at these problems a different way. Rather than being quick to look to eternal forces that are holding you back, could you look internally? When working through obstacles in life, I encourage you to question every aspect of your approach to your business, including your methods, biases, and assumptions. This kind of rigorous self-examination requires that you honestly challenge your beliefs and goals, and work up the courage to act and make a change.
Look deep and determine your personal definition of real success. What exactly are you looking for in life? Do your goals for your business truly align with your definition of success? Honestly evaluate your strengths and weaknesses. Everybody has both! Realizing who you really are will help you determine the best path to take and changes to make. And in the end, look for the positive. Don't let challenges stop you. Instead, view them as incentives to change and move in a positive, new direction.
When you look inside yourself you take back your power as a successful entrepreneur. Other people and things did not make your business great – you did! So only you can take back your life by taking a deep look at yourself instead of complaining.
I encourage you to look at and complete the Self-Assessment Exercises in my book Entrepreneurial Couples – Making It Work at Work and at Home. They will help you dig deep on a number of topics from your working relationship with your spouse, to your views on family and money, to how you view yourself. These are great tools to begin your journey inside yourself.
Sometimes we need the help of a trained professional to get past barriers and assess ourselves honestly. If you live in the Portland, OR/Vancouver, WA area, please contact my office to set up an appointment.