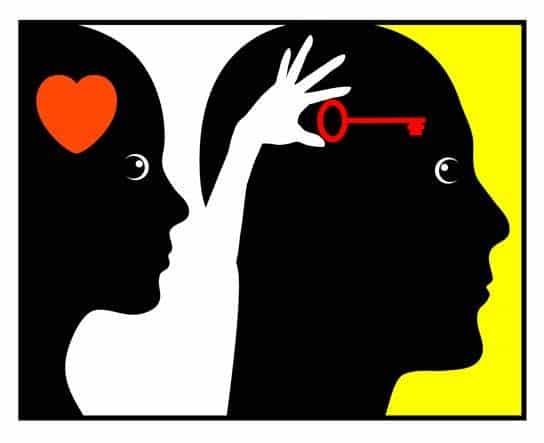 John Elder Robison, whose Asperger's Syndrome was undiagnosed until he was 40 years old, gets a lot of play for his books on his life with autism. His latest book about undergoing
transcranial stimulation
, "
Switched On
" leads readers to believe that for a short period of time he experienced empathy. This is simply not true.Empathy is so much more than being sensitive. In fact many NTs are stumped by their Aspies because they
appear to be very sensitive
and they might be. Parents make this mistake often with their ASD children. Because your ASD child
loves you
or bursts into tears when they see a pet hurting doesn't mean they have empathy.
Empathy is a complex, multi-faceted skillset that I sum up as Namaste – "the Soul in me recognizes and honors the Soul in you." It's the ability to clearly recognize the other person, while holding constant your own feelings and thoughts. It's respecting the boundaries of the other person even if you sympathize. You don't confuse their pain or thoughts with your own. Furthermore, the highest level of empathy is what I call "Radiant Empathy," or the ability to care for the feelings and thoughts of others without any need for reciprocity.
John Robison never experienced the state of empathy, but with transcranial stimulation, he was more aware of his own feelings and he was even more unable to regulate them (typical of an Aspie). If you have Radiant Empathy you can regulate your feelings and not run amok.
It takes a lifetime to develop Radiant Empathy because it's the combination of a healthy brain and life experience. But science will keep trying to discover the components of life as if the sum total of a human is nothing more than the sum of its parts.
We'll discuss this very important subject at our next TELECONFERENCE: "Sensitivity is not Empathy" on Thursday, March 16, 2017 at 2:30 PM. Our approach won't be so much from an intellectual point of view but for two reasons…
1) When you better understand that your Aspie is operating in the relationship without empathy, you can more easily find ways to communicate.

2) You may find that you can be freer to strive for Radiant Empathy, which actually makes your life more joyful.
If you'd like to learn more about the science of Asperger's Syndrome, click on the image below and download a free chapter of my book. And don't forget to invite the ASD professionals you know to join the special Meetup I've created for them…Asperger Syndrome: Continuing Education for Psychotherapists.