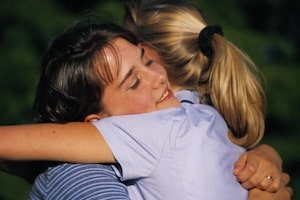 Does the subject of "empathy" confuse you, especially with regard to your Aspie loved ones?
They seem so sensitive at times and yet
clueless about your feelings
. Could it be a disconnect between what is in their hearts and what is in their heads?
Simon Baron-Cohen, a British researcher, tells us that a defining quality of Autism is a deficiency in empathy. But in practical terms just what does that mean? A deeper look into the research tells us that those with Asperger's may have a disconnect between the two major types of empathy, Emotional Empathy (EE) and Cognitive Empathy (CE). If you have Emotional Empathy (EE), you can feel the emotions of others (or animals, a noted Autistic strength).
But there is a huge problem with having only EE. Can you tell if what you are feeling is yourself or the other person? And even if you can figure out that these feelings are coming from another person, can you talk about it? You need Cognitive Empathy(CE) in order to recognize the bigger picture of who is feeling what and how to talk to the other person "empathetically."
As a neurotypical with a Asperger loved one in your life, have you pondered this dilemma? If so, you are not the only one. Join us on June 18, 2011 in Portland, Oregon for the Asperger Syndrome: Partners & Family of Adults with ASD Meetup. We will be discussing this topic in detail and would love to hear your thoughts on the subject. We will be taking this research a step further into our personal experience and discuss how we live with it and what to do about it.
If you are unable to attend, please become a member online and jump into our online discussions.