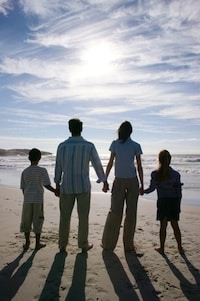 Last year in the United States, 51,000 children were adopted, leaving 102,000 waiting for their special parents to find them. According to
state government statistics
from 1999 to 2013, there have been 3,989 adoptions in Oregon and in 7,799 Washington.
We all understand, or at least can acknowledge, the losses that come from divorce or death. Perhaps if you've not gone through it yourself, you can't truly understand it yet. However, have you ever considered that there's a much deeper loss experienced by those that have been adopted? Some time in their lives, they will deal with the grief of the loss of a family, loss of an identity, and intense feelings of rejection.
As a result, many adoptees build walls around themselves so others can't get close to them and inflict further pain. Or they keep their feelings deep inside so as not to hurt their adoptive parents by making them feel rejected, since they know how much that hurts.
Children need to know their adoptive story. They need to know that they are in no way responsible and that they are lovable, precious and wanted. They need a positive and nurturing environment to grow in.
Raising adopted children and growing up adopted is different than other families. There are many similarities, but the exceptions to the rule need to be examined too. It's foolish for adoptive parents to raise their children without education about the effects of adoption on the lives of their children and themselves
So, in addition to the regular books and seminars on effective parenting, adoptive families should be reading and talking to adoption professionals about the special needs of their families. People often locate a mental health professional in their area by asking their doctor or pediatrician for a referral or contacting one of the mental health organizations.
The blessings of raising an adopted child are plenty. Take the time to be prepared to meet the challenges. Don't take your parental role lightly. Educate yourself by reading books, attending seminars, or speak to an adoption specialist. For more information, visit: Adoptive Families.
Looking back as an adoptive parent myself, one of the most valuable resources I found was regularly speak to an adoption professional who is also a mental health care professional. And yes, that led me to specialize in adoption myself, as I studied for my psychology degree.
Since each adoptive family is different, this type of professional can specifically address the needs of your family. Books and seminars are for the masses, but one-to-one discussions will be completely focused on your needs and the needs of your child. If you live in the Portland, OR/Vancouver, WA area, please contact my office and schedule an appointment. I would be happy to assist you.
For more statistics, check out the latest US Dept. Trends in Foster Care and Adoption July 2014 PDF.