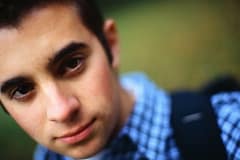 Recently I watched
a video by Dr. Daniel Amen M.D.
where he discusses how, after researching 100,000 brain scans, he's discovered that actual brain damage is contributing to emotional problems such as anger issues and even brutal killings. Judges and defense attorneys often consult with Dr. Amen in order to understanding criminal behavior. While he does not in any way condone what these criminals have done, he's made some fascinating discoveries by studying their brains.
For example, after looking at Kip Kinkle's brain in 1998, (you may remember he shot 25 at his school, killing two plus his parents in Springfield, OR) he found that sometime in the past this person had suffered either deprivation of oxygen or some type of infection that made his the worst 15-year-old brain scan that Dr. Amen had ever seen.
What can we learn about rehabilitating people who have aggressive behavior and are violent? By taking their entire history and imaging the brain, we can discover the biological, psychological, and social reasons why they're acting the way they do.
When we see homelessness, drug and alcohol abuse, depression, anxiety disorders, PTSD, ADHD and suicide, we should seriously look at the health of the brain for answers. The good news is we can prevent these brain injuries from escalating into hurtful behavior, either towards themselves or towards others. They can be rehabilitated if it's caught early enough!
Is your son or daughter troubled with anxiety, depression, anger, or destructive behavior? Please do not ignore these symptoms or dismiss them as typical teen moods. Seek help immediately to determine if there's a physical or psychological cause. That way the problem can be resolved now, so he or she can live a happy and productive life. Brain health can be restored. If you live near Portland, OR/Vancouver, WA please contact my office and schedule an appointment to find out how.
Watch Dr. Amen's video for the very emotional success story of how he helped a young man go from a troubled youth to an American hero.