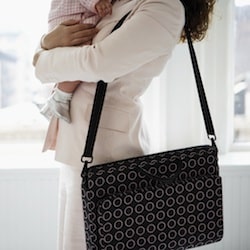 What's your definition of a "good mom"? What image comes to mind? Is she the "have it all" "be-it-all" type of supermom? Does she tirelessly manage a spotless house while keeping her kids busy in 10 different, after-school activities so they can get into the best colleges? Does she have an "even if it kills me, they're going to have it" attitude? And all of this sandwiched in between a career or business as an
entrepreneur
!
A recent New York Times contributor, Heather Havrilesky, poured out her feelings about the mixed messages that are putting immense pressure on moms to be supermoms, while at the same time receiving degrading messages like, "Oh, you're just a mom". She talks about losing her own identity, which I'm sure many moms out there can relate to.
Even though my daughters are both grown up now, I remember the stress involved in trying to do it all. Do you sometimes find yourself wondering…
When did the role of motherhood get so out of balance?
How did it become the norm that life revolves around everything your child wants rather than the child learning to fit into the family?
How is it you become a bad mom if you don't keep running from the moment you wake up until you fall exhaustedly into bed at night?
How are you supposed to smile happily through it all?
On top of that, you're burdened with an immense sense of guilt every time you take some 'me time' for yourself…" This striving for a false perfection sets you up for the frustration of never being able to measure up.
Moms, especially working moms, are people too, not superheroes. You're going to make little mistakes, even big blunders. The key is to recognize the mistake, accept it, and learn from it. As a psychologist please let me assure you that children are remarkably resilient. If you err, stop it, change it, apologize for it. You will be modeling flexibility and honesty for your child – two important values for them to have.
It's important to remember that your child is a unique and a separate person from you. He or she isn't an extension of the parent, but is as different and distinct as their fingerprints. If you take the time to be curious about who your child is, how they think, who they're becoming, you'll have the opportunity to make a lifelong friend.
Occasionally, when a problem arises that is beyond your understanding, it's appropriate to seek the expertise of a family therapist. Sometimes personal problems or relationship problems interfere with productive family life. It is important to recognize these problems, seek professional help and restore family life to a healthy, happy balance. If you like in the Portland, OR/Vancouver, WA area, please contact my office and schedule an appointment.
Want to create a better work/home balance? If you're an entrepreneur please check out my book – Entrepreneurial Couples – Making it Work at Work and Home.
Read more on my website: Women Entrepreneurs, Resources for Copreneurs and Am I a Good Parent?