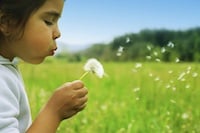 For most parents being away from your children, like sending them to school, is something that doesn't normally cause undue fear. However, parents of children with Autism Spectrum Disorder live with an unimaginable, daily fear that their child will go missing.
Drawing awareness to this problem, executive director of the National Autism Association, Lori McIlwain, recently wrote in the New York Times about when her 7-year old son with ASD went missing. As more children are diagnosed with ASD, the spotlight needs to continue to shine on this problem so that there is more awareness.
What causes children with Autism Spectrum Disorder to wander away? Usually it's one of two reasons: they are searching for a personal fascination (bodies of water and busy roads are at the top of the list) or they are bolting from a situation that caused fear. According to a recent article in Pediatrics, "49% of children with autism have attempted to elope at least once after the age of 4, 24% were in danger of drowning and 65% were in danger of traffic injury."
Whether you call it wandering, bolting, eloping, or running away, the fear that your child will go missing is a very real and daily stress for parents of ASD children. Usually the children who are most severely affected by ASD are the ones that go missing. Since ASD causes impaired communication and social skills, they are also the ones least capable of coping with the situation. If your child can't answer to his name and avoids strangers, the search becomes extremely difficult. The Pediatrics article concluded: "The results (of their study) highlight the urgent need to develop interventions to reduce the risk of elopement, to support families coping with this issue, and to train child care professionals, educators, and first responders who are often involved when elopements occur."
Parents are quite literally lying awake at night, because they don't know how to keep their children safe from wandering. There have been few resources for support or information on how to prevent this type of behavior. In addition, the common and uninformed misperception in the community is, "It's your fault. If you were a better parent you'd keep an eye on your children."
If you find yourself in this situation, you are not alone. Seek out a therapist who specializes in autism disorders. They will be able to help you find ways to develop your child's cognitive skills as well as help you to cope with the stress caused by a constant state of vigilance. Contact my office for an appointment if you live in Portland, Oregon/Vancouver, Washington.
For more information on Autism Spectrum Disorder, visit Asperger Syndrome Frequently Asked Questions.