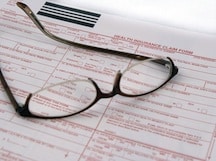 For years those with mental health issues have struggled with getting adequate insurance coverage or have been denied insurance coverage when their mental illness is diagnosed. As a psychologist I've had a front row seat – watching people struggle to use their mental health benefits, if they were fortunate to even have mental health benefits.
I've written articles
exposing the sometimes life-threatening situations that have been created by a broken system.
So I was happy to see the recent CNN article, Feds Boosting Mental Health Access, Treatment. Health and Human Services Secretary Kathleen Sebelius announced new rules that, "Finally put mental health and behavioral health on equal footing." Of course this has been in the works for years. President George W. Bush began the move to greater equality with The Mental Health Parity and Addiction Equity Act, which has made mental health care more accessible, but it hasn't been enforced up to now.
Insurance companies have often limited the coverage for mental illness, which makes it tough on those seeking help. If you had coverage often times you were limited to five or ten visits with a counselor. If the problem cannot be resolved in five or ten sessions, you had to pay out of pocket if you could afford to do so.
The new rules require insurers to cover co-payments, deductibles, doctor visits, outpatient services and residential treatment equally for physical and mental illnesses. This is very good news for those with chronic mental health issues.
There are so many changes going on in healthcare right now that it can be difficult to keep up. Here's a word of advice, stop looking for someone to take care of your every health or emotional need. There will never be a perfect healthcare system. Instead utilize your good old common sense and decide for yourself, with the help of professional advisors such as your trusted doctors, just what is the best psychological or medical treatment for you, your loved ones and your employees.
If you interested in scheduling an appointment with my office please take a look at Therapy FAQ page for answers to questions regarding insurance. Read more about the benefits of psychotherapy on my website – Psychotherapy Treatment Options.