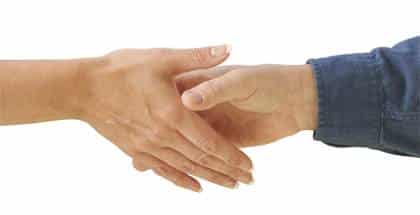 Elise and Aaron have been in a happy marriage for more than ten years. During that time, each has built a successful, professional practice. However, unexpected problems began when they moved into the same office suite. Because they're seeing each other every day at work and at home, conflicts are happening more often. The tools they used in the past to resolve problems aren't working anymore.
This pictures a classic problem between entrepreneurial husbands and wives. Because their
expectations are so radically different
, husbands and wives become confused and frustrated with a partner that they love. They wonder why they ever asked the other to work with them. Sometimes they wonder even if they should remain married.
Search for a flexible system of relating that can change with the circumstances of your life, your lives together, and the changing marketplace of your business.
As more and more couples consider entrepreneurship, it becomes painfully apparent that they must prepare for the stress that business collaboration will cause their personal relationship. Much of this stress results from couples not
discussing
the ramifications of working together, not preparing for the
blurred boundaries and turf
that arise when a spouse becomes one's business partner. However, clarifying the work/home expectations of each spouse/business partner should be the first thing that any entrepreneurial couple does, even before spending a cent on letterhead or signing the bank loan.
Whatever your style of couple entrepreneurship (a solo proprietorship, co-entrepreneurial couple or dual-entrepreneurs) there are few models to guide you in maintaining a loving marriage and a thriving business simultaneously. It is possible to design a model unique to the two of you that really works. Begin by
talking with your spouse/partner
about the goals each of you has for yourselves individually in life. Then go on to discuss marital goals, family goals and finally business goals. I have a more comprehensive outline of how to do this in my book,
ENTREPRENEURIAL COUPLES: Making it Work at Work and at Home
. It's now available as a
Kindle edition
. Why don't you check it out?
If you need some personal guidance on how to resolve a conflict in your family business, please contact my Portland Oregon/ Vancouver, Washington office and
set up an appointment
.