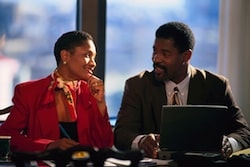 When couples work together they have the opportunity to work with a partner they love and trust most. They also have the opportunity to see the best and worst of their partner . . . day in and day out. Even with the most enlightened people, this constant togetherness can cause conflict. It's wonderful to have closeness, rapport, and regular praise from your sweetheart. It just doesn't feel as wonderful to have your partner know you so well that they give you regular criticism as well.
It is important to view criticism for what is really is . . . a critical analysis of your behaviors and an offering of advice on how to change, grow and improve yourself. If criticism is hard for you to take, try viewing it from this perspective. Criticism doesn't make you bad or undesirable. It is just feedback for your enlightenment. Everyone from time to time needs to check out old habits, rewrite some scripts, take a few risks, and try anything new to break out of a rut. If we don't attend to this we lose out personally.
If you are offering criticism to your spouse, here are a few things that you should keep mind. First, choose a good time. The right moment can make a huge difference in how the criticism is received. Second, be prepared to offer some sort of commendation along with the criticism. This will remind them that you do care and value them. Third, make sure that it is necessary criticism. It may be an issue that is really not that important or it might just be your inability to be flexible more than them needing to change.
Criticism is a vital tool that if used properly can make a person blossom for the good. For more information, read my article – Entrepreneurial Couples Can Transform Criticism into Feedback.
Want to learn more about the rewards and challenges of working with your spouse? Visit Entrepreneurial Life – Couples at Work and Home