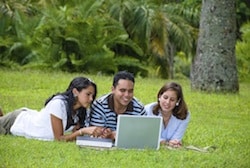 I am sure you have heard of the phrase, "Six degrees of separation." Back in 1967, a psychologist by the name of Stanley Milgram, conducted a study to see how many acquaintances separated one person from another. He concluded that the number was six. Fast forward to 2011 and the era of Facebook, studies now show that the number has changed from six degrees to 4.74 degrees.
In one month, scientists at Facebook and the University of Milan used a set of algorithms to calculate the distance between the 721 million Facebook users around the world. Their conclusion was 4.74 degrees. I guess we can truly say that it is a small world. To read more about this fascinating study, read the New York Times article – Separating You and Me? 4.74 Degrees.
After reading this, it did make me think about the people we choose to refer to as our "friends." When it comes to making friends on social networking sites, many choose to friend just about anyone. While it can be both interesting to see and monitor the people we come in contact with, nothing will ever or should ever replace the value of cultivating deep and meaningful friends. These types of friends do not number into the hundreds, but rather just a small handful. Even though you may only have a few in your lifetime, it is a beautiful thing to take the time to maintain the real fulfilling friendships. Maybe take a moment today and tell one of those special people how much you appreciate them. I guarantee it will brighten their day and yours.