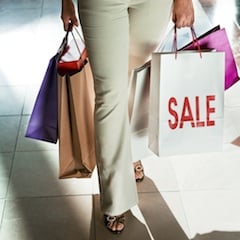 To all my readers, I want to make you aware of a situation that I found a bit disturbing during this busy shopping season.
CnnMoney.com
released
an article
about how this year, two malls are tracking the movements of shoppers cells phones from Black Friday through New Year's Day. The reason given was to track the movements of shoppers throughout the mall and collect data to learn about their shoppers, what they do, where they go etc. This is the first time that this type of data has been collected by cell phones. The data is apparently anonymous and no specific shopper is targeted. Stores hung signs notifying customers of the tracking and said if they prefer not to be tracked, then their cell phone should be turned off.
Some of you may have mixed emotions about this type of tracking. Some may view it as "market research" while others may feel an invasion of privacy. I wanted to share my concerns with you, possibly giving you something to think about especially if you haven't before. One of my concerns is safety. The management company behind this tracking claims that it is safe and there is no personal data collected. Granted that may be true, but just because someone says it, doesn't mean it is true. It raises the question, how safe is you personal information? Are you taking precautions to protect yourself?
My other main concern is for children and teens. Most have cell phones nowadays. Parents, are you discussing with your children the possible dangers that are out there? Are you teaching them to also take the necessary precautions? This can also branch over to the Internet and social networking. Are they using the privacy settings correctly? Parents, educate yourselves so you can educate your children.
Of course, this information is not to frighten you, but to make you more aware. If you'd like even more food for thought take a look at the book, "Unplug the Christmas Machine" where the authors examine the impact of the American way of life on a peaceful holiday season.