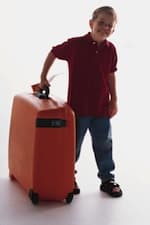 Many families travel during the holiday season. Traveling with a child
is a challenge, but traveling with a child with ADD/ADHD takes it to an
entirely different level. The good news is that as a parent, you can
prepare yourself and your child for the journey. Here are a few helpful
tips to make your travel experience a smooth one:
1. Prepare in advance.
Spontaneity and ADHD do not go hand in hand. Structure always works
best. So, prepare your child for the trip in advance. Explain to them
what they will experience on the trip, what the schedule/routine will be
like etc. This way you will not throw them any unexpected curb balls.
2. Include them in the planning.
Ask your child what they would like to do on the trip. Do they have any
particular interests? Can you include their interests in the itinerary?
3. Stick to a schedule. Try your best to stick to a
similar eating and sleeping schedule that your child is comfortable
with. I know it is hard to do that when on vacation, but the closer you
stick to it, the easier it will be on your child and on you. It make
require extra planning on your part. For instance, bring snacks along so
if you can't get a meal in at the regular time, you have something that
your child can eat. If you know you will have a late night, try to
squeeze in time to rest.
4. Set the rules. Explain to your child what the rules are before
you leave! This way they will understand what is expected of them and
it will be easier for them to follow. Establish consequences if the
rules are not followed. On the flip side, if they follow the rules, be
sure to commend or reward them. Positive reinforcement works brilliantly!
With a little forethought and planning, you and your child may actually enjoy the journey! For on information, visit Parenting a Child with ADD.
If you are planning a trip with an autistic family member click here for travel tips.