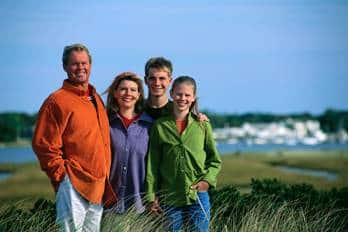 Summer is just around the corner. Have you planned your family's vacation yet?
Maybe you think you're too busy. One solution is to take a look at ways to
integrate your business trip with the family vacation.
It is important to raise children who have a sense of belonging to a family
with parents who are professionals. The children see the work as part of who
their parents are … and they are part of it too. Integrating a
family/business vacation is much easier now with the help of hotels and resorts
who cater to business travelers who wish to bring their children with them.
While Mom and Dad are at their business meetings, or downloading their e-mail,
the children are able to participate in events sponsored and supervised by
hotel staff.
However, there is a potential problem. Workaholics may never learn how to leave
work. Combining work and play as I have described above is one alternative, but
another is to plan vacations without work in mind at all. Pure family fun is
vital for recharging the entire family.
As a family who also happens to be in business together, you have the
sophisticated task of integrating the needs of family and the needs of
business. If your spouse and your children feel a part of your work, they are
in a better position to help with business growth, even if only as interested
stakeholders. And if you are willing to take time from your busy schedule to
play with your children and family, even at a business conference or trade
show, you are sending a very important message. That is, no matter how
important the business, no matter how you wish the business to succeed, what's
the point if you cannot share your successes with the ones you love?