It's a fact – lack of effective communication is a leading cause of divorce or permanent separation. Communication is an important aspect in all parts of our lives, from our relationship with our children and family to working with coworkers. Today, I'm focusing on the need for an active communication between spouses.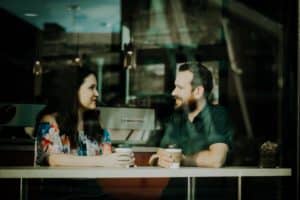 Newlyweds seldom think of separation on the day of their wedding. We want and hope for a strong emotional connection with our partner. Yet, these connected intimate relationships don't just happen. They require hard work at commitment and maintenance, from both partners.
Autism is defined by a lack of social reciprocity. What does that mean? Our "Aspies" lack the empathy to understand your need for a hug or a kind word at the end of a hard day. You will need to be the bridge between your world and your partner's world, where everything is straightforward. It's tough to explain empathy and Empathy Dysfunction (EmD). I also wrote a couple of books to explain this more in-depth ("Out of Mind – Out of Sight" and "When Empathy Fails" – you can download a free chapter).
I briefly explain and add clarification in this blog post, "Empathy: "Asperger's" Style". Empathy is much more than sensitivity and "Aspies" often miss the subtle nuances of communication. This can make communication with them harder, like talking to a wall when you need a comforting hug.
People on the Spectrum can learn rules of engagement, but they can't be taught empathy. That's why it's on neurotypicals to be the bridge in our relationships. . . between the empathic or interactional world of NTs and the transactional world of "Aspies." Once we NTs understand that our "Aspies" are not using empathy to understand the world and the people around them, we neurotypicals are in much better shape to slice through the communication hangups.
What is one side-effect in not having effective communication between partners?
I have heard many neurotypicals complain of experiencing psychological invisibility. What they mean by invisibility is that they feel ignored, unappreciated and unloved, because their context blind "Aspie" family member(s) is so poor at empathic reciprocity.
We come to know ourselves (I wrote about this and Dialectical Psychology, in my book "Out of mind – Out of Sight") in relation to others. This doesn't just apply to children. Throughout our lifespan, we continue to weave and re-weave the context of our lives, and our self-esteem, by the interactions we have with our friends, coworkers, neighbors and loved ones.
This is why it is so important for an NT to get feedback from his or her spouse. A smile, a hug, a kind word, a note of encouragement – these are messages that reinforce our self-esteem and contribute to healthy reciprocity in the relationship.
Without these daily reminders from loved ones, NTs can develop some odd defense mechanisms, like becoming psychologically invisible to others and themselves.
If we learn to know yourself and others in relation to those we have grown up with such as our families and friends and teachers, then we don't really have the tools to know our "Aspies" do we? "Aspies" need a different matrix for understanding themselves and their loved ones. 
If you want to know more about his matrix and how to explain it to others, I encourage you to join our community, "ASPERGER SYNDROME & RELATIONSHIPS: Life with an Adult on the Autism Spectrum". It's a space for partners, family and friends of "Aspies" from around the world. This is a community that understands and can empathize with your daily struggles. Additionally, you will also have access to weekly video conferences to help you navigate through your highs and lows and reclaim your life. 
I hope to see you there!