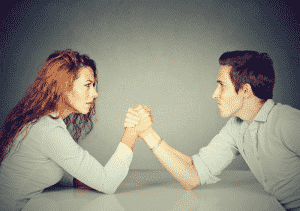 There's a big difference between a relationship where two people have differences as they work as a team toward shared goals and a relationship where the couple fights to "win" and be "right". The first relationship is marked by love, caring, trust, respect and shared values; the latter is not.I don't have an easy answer for this question actually. In the past, I've written about how entrepreneurial couples can avoid power struggles at work by putting away fears and egos. Yet these suggestions for avoiding power struggles or disengaging when they start just don't seem to work with people on the ASD Spectrum. Their logical mind sees that you are "wrong" and they won't let up until they wear you down. It's as if there's a volcano inside that is overflowing and can't be stopped even when you capitulate.
Autistic power struggles are different than meltdowns. They aren't due to sensory overload or some other emotional disequilibrium that people on the Spectrum experience. Rather it's their black and white thinking that seems to stump them. They tend to seize on a small point of disagreement and take it to the extreme.
According to a research paper entitled, "When Eros meets Autos: Marriage to someone with autism spectrum disorder" by Rench, Cathryn, Ph.D., CAPELLA UNIVERSITY, 2014, 264 pages; 3681894, their study revealed:
"Often it is the partner without AS, or neurotypical (NT), who is considered responsible for the relational distress, usually the female due to the heavily male-skewed AS diagnostic ratio of 8:1. There's a pattern of intimate partner abuse so pervasive that it emerged as the lifestyle of the couples. The five forms of domestic violence (emotional, sexual, psychological, economic, physical) characterized the lived experience of the participants."
Within these five areas – emotional, sexual, psychological, economic, or physical – where do you feel the biggest power struggle occurs in your marriage, partnership, or relationship? Perhaps identifying this will help you begin regaining the personal power you've given away.
If you're a member of my Asperger Syndrome: Partners and Family of Adults with ASD Meetup, please join us for our next low-cost video conferences on this topic. Let's use this time to talk more about why our Aspies engage in power struggles, but even more important is how to protect ourselves from these difficult moments.
If the conference is full, I also offer online therapy if that works best for your busy schedule. You can find more details on my Contact page.