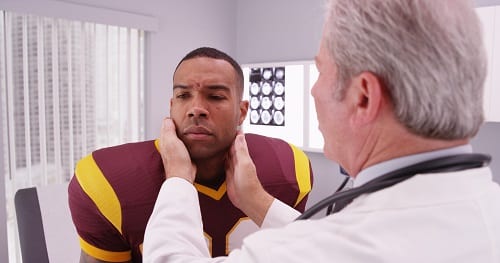 How many stories do we have to read or hear about
football brain injuries
before things change? I recently read, in the
New York Times
, Emily Kelly's heartbreaking story about her husband Rob Kelly, a retired N.F.L. player. When he retired at 28, he had no idea of the long-term consequences of the "game". He went from being a loving, sensitive, family man to a reclusive man who doesn't eat and is often paranoid.Emily points out that NFL's top medical experts obscured the dangers of permanent harm to the brain. She shared a link to an OPB resource that chronicles the
NFL's Concussion Crisis
. It's very enlightening to see they knew and said nothing.
Throughout her story, she speaks of how alone she feels, as she deals with her husband's strange behavior. It changed their lives. They're sharing their story to alert parents to the dangers associated with this sport. It has serious and deadly consequences. The money that is made is not worth the lives that are destroyed.
I was especially struck by the following description of how it changed Emily:
"When you live with someone with brain damage, you become highly attuned to your environment and develop an intimate relationship with your senses and intuition. Your hearing becomes excellent, almost unbearably keen, like a movie character who develops supernatural abilities overnight. Rob's mood swings scare me sometimes, and I always have to be in tune with early signs of his agitation. I try to protect him from stress so he won't be overwhelmed. It's exhausting."
Her story is not unique. I went through all of this with my daughter who played soccer. At 23 she assaulted me, knocking me across the room into a plate glass door. She accused me of attempting to pour wine on my sleeping 8 month old grandson; I was totally taken aback by this crazy accusation. She called the police and was so convincing that I was arrested and jailed. Later all charges were dropped when it was evident that I was the victim. The mood swings, the paranoia, the assaultive behavior— it's sad and frightening. Healing from the destruction of my daughter, our relationship and our family drove me to write a book about it, "WHEN EMPATHY FAILS." I invite you to download the first chapter for free.
If your life has been turned upside down because a loved one has TBI or CTE, please don't try to go it alone. Find a supportive group and enlist the help of a mental health professional. If you live near Portland, OR/Vancouver, WA please contact my Jantzen Beach office and schedule an appointment. I also offer online therapy if that works best for your busy schedule.