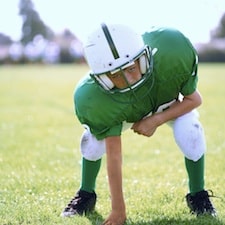 We can't keep our children in bubble wrap. Living involves risk. Responsible parenting means we're on the lookout for
potential hazards
that can harm our children. That's why we teach them "look both ways before crossing the road" or "don't get in a stranger's car". We naturally want to protect our children.
But what if your children WANT to do something that you KNOW will harm them? Do you give in and let them decide to do it? What if it's an activity that is viewed by many as "harmless fun" or touted as "building character"? Specifically I'm thinking about football…

Is Football Safe for Children?
Recently I watched a heart wrenching YouTube video that I think all parents should watch. The handsome, grinning face of twenty-one year old Owen Thomas is followed by a photo of his tombstone. He looked so happy being a hard-hitting lineman from 9 years old and onward. Yet, out of the blue, he committed suicide.
Concussion is a leading cause of CTE (Chronic Traumatic Encephalopathy) in football players, which in turn has caused some players to commit suicide. Surprisingly, Owen had never experienced a concussion during all his years of playing football, so there seemed to be no explanation for his death.
It was shocking to discover that when Dr. Ann McKee, neuropathologist at BU CTE Center, examined his brain, he had advanced CTE! She concluded that the CTE had resulted from sub-concussive hits he'd experienced throughout the years of playing the game. Just from playing the game.
When you sign your child up for a sport, you know there's a physical risk. They can sprain an ankle or even break a bone. Are you prepared to deal with the brain damage that results from playing football? I urge every parent to do the research and weigh the risks. Dr. Robert Cantu, Neurosurgeon at Boston University said, "No one under 14 should play football. The youth brain is lighter in weight, so it takes less to put it in motion. You tap a youth brain and it moves much quicker than an adult brain."
While Dr McKee would not make a blanket proclamation for all, when asked if she had a child who was 8, 10 or 12, would she allow that child to play football, she emphatically said, "I would not, because of the way football is being played currently. It's dangerous and it could impact their long-term mental health. You only get one brain. And you want your kids to succeed in life and be everything they can be. If there's anything that would infringe on that, I wouldn't do it."
Watch the Frontline YouTube Video: Is Football Safe for Children?
Read on my website: Depression – How To Recognize The Symptoms.