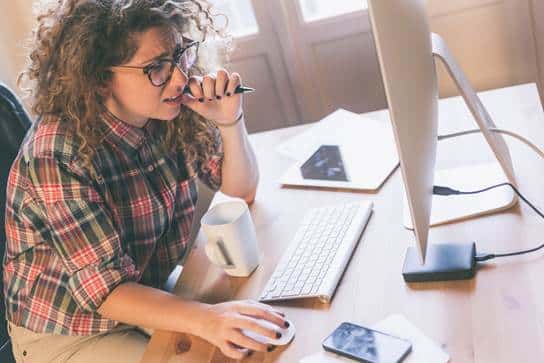 Anxiety is costly. It costs you emotionally, mentally and physically. The mind-body connection is very real and very powerful. Our emotions affect our bodies and anxious feelings can cause many physical health problems.

What about the financial cost of dealing with anxiety? Doctor's visits and medications are expensive. Personal steps taken to prevent anxiety, such as supplements or private forms of transportation to avoid crowds, can add up quickly. There is also the cost of re-doing a project or an activity if it has been disrupted by an anxiety attack, which was illustrated in a recent story in the NY Times of a woman whose panic attack cost her $1000.
Then there is the burden put on your business. Persons who suffer with anxiety take more time off work than their less-anxious counterparts. And if you own a business, your anxiety will eventually affect your bottom line. How?
Here are just a few ways anxiety can cost your business:
Anxiety can make you less solution-oriented. When you encounter a setback, you are likely to give up quickly instead of continuing to search for a way around the problem. It can prevent you from moving forward and persevering.
Anxiety can prevent you from trying new things and expanding your business. Anxious persons are afraid of change and failure. Instead of looking at a new experience as an opportunity to learn, you look at it as a chance of failing.
Anxiety affects your employees. Your anxiety can rub off on the people who are around you, thus reducing their efficiency and even their attendance at work. It can also lead your employees to feel like they have to walk on eggshells around you, hindering communication which is a vital part of managing a successful business.
Anxiety can cost you clients. Clients are more likely to work with you if they sense you are confident in your product and relaxed. They, too, can pick up on your anxiety, and it could prevent them from doing business with you.
To clarify, the type of anxiety I am discussing here isn't the "normal" feelings of nervousness, fear, or apprehension caused by new experiences, high-pressure situations, or stressful events. This type of anxiety usually goes as quickly as it comes. Once the anxiety-inducing event is over, feelings normalize.

The type of anxiety I'm talking about is the kind that nags at you on a daily basis. It is the type of anxiety that can sometimes be pushed out of mind enough to get through the day, but that eventually starts to affect your business, relationships, and health. This anxiety becomes controlling, debilitating, and may even feel inescapable.
If these are symptoms you deal with, you may have developed an anxiety disorder. In this case, help is needed to manage the mental and physical discomfort, and learn how to cope. If you do suffer from an anxiety disorder, be assured you can identify and correct your negative thoughts and beliefs. You can change the way you think, thereby changing the way you feel.
How can you do this? I encourage my clients to Identify, Challenge, and Replace their negative, anxious thoughts.
Identify what you're thinking when you start feeling anxious.
Challenge those thoughts and ask yourself if your fears and concerns are legitimate and warranted.
Then Replace your negative thoughts with new thoughts that are more realistic and positive.
It's simple but it can be far from easy! In many cases, if you're dealing with an anxiety disorder you will need the guidance and support of a doctor. Anxiety disorders are not all treated the same, and it's important to determine the specific problem before embarking on a course of treatment.
Please contact my office in Jantzen Beach to schedule an appointment, or try online therapy if that is best for you. I will conduct a careful diagnostic evaluation to determine what type of anxiety you are truly dealing with and establish a plan of treatment to get you back to feeling and working at your best.