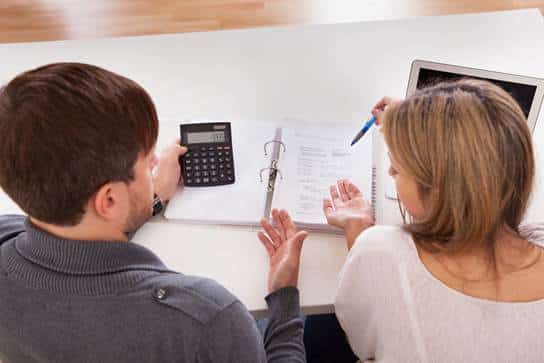 You've got a new business idea? Great! Your romantic partner is on board to work with you? Even better! As you begin to plan the logistics of how this new enterprise with your partner will grow and thrive, it goes without saying that planning financial matters will be on the top of your list of things to do.These plans do not refer solely to financial matters directly related to the business, such as start-up costs, fees, and overhead. When you're working together as a couple,
money issues
are also part of your personal lives. One partner may keep their full-time job while the other devotes their time to the new business. Maybe you will both quit working and jump in with both feet. How will this entrepreneurial venture affect your
children
?

As a couple, you need to determine ahead of time, how you will manage your money, or lack thereof, during this transition.
Over the years, I have had the opportunity to work with many entrepreneurial couples, and there is a pattern among those who have long-term, happy relationships interwoven with a prosperous business life. Here are some money tips for couples starting their own business I have seen work time and again:
Make a plan for personal expenses. Know what you have, and what you can afford. Growth usually requires a certain amount of risk, but don't go into your new situation blind. Create a solid plan for how you will continue to pay for your personal expenses as the business grows.
Prepare to live on a single income. It may not come to this. Your business could be profitable immediately. Or you may both continue working full-time until the business reaches a point where you feel comfortable with one or both of you quitting your full-time job. But be prepared for the idea that you may very likely have to survive on less for a time. Make sure that no matter where your money is coming from, you both feel like equal partners. Regular communication is vital to maintaining that feeling of partnership.
Designate responsibilities. Don't get lost in the chaos that comes with launching a new business. Keep in touch with each other and make sure everyone feels valued. For efficiency's sake, you may divide up duties along the lines of who is most capable or available. At the end of the day, though, you are just as responsible as your partner for the success of your goal. If one spouse is less involved in the business, show gratitude for the work they do and sacrifices they make in other ways.
Give 100%. Each partner should consider themselves 100% responsible for the quality of their individual life as well as their joint venture (i.e. parenting, household duties, managing & promoting a business). You should put your whole self, talents, intuitions, and muscle into the marriage and business partnership. When both partners do this, it makes them each equally responsible for the outcome.
Communicate. There is no substitute for regular, meaningful communication. What does this have to do with money? Your business will suffer if you are not working together as partners in life and business. Take time out from the stress of entrepreneurship to reconnect and keep love as your top priority. This means talking about things unrelated to your business. Talk about the things that feed your soul, that concern you, that bring you joy.
Maintain a healthy work-life balance. Starting and running a successful business requires an inordinate amount of time and energy. It could result in you losing touch with those most important to you. It is also crucial to care for your personal health and well-being. Your business can't run without you, and your partner doesn't want to do it without you. Set aside time to be active in a way that energizes and invigorates you, and schedule time with your family and friends. That time spent recharging your batteries can be just what you need to persevere and achieve even greater things.
Talking about money is a top stressor for many couples. When you add in the stress of starting a new business don't be surprised if things get a bit rocky in your relationship. I've helped many couples make a success of their marriage and their business. If you live in the Portland, OR/Vancouver, WA area, please contact my office to set up an appointment. If you live elsewhere, take a look at remote education services specifically for entrepreneurial couples.