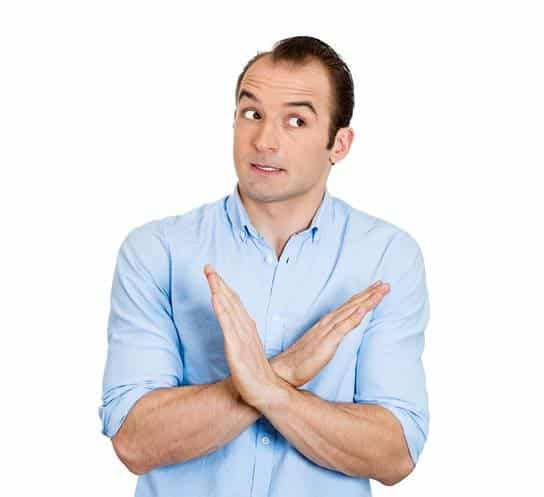 If you've been around someone with Asperger's Syndrome for very long, you'll notice our Aspie loved ones default to non-committal answers when they're asked questions or are invited to fun activities. Some variations on NO! are, "I don't know," or "I don't want to," or just a blank stare.How do you react to this situation? Many people become infuriated by this behavior and give up. Hopefully you've gone beyond holding your own life back because your Aspie spouse can't commit. It's important to make plans without your Aspie.
It might help to understand the reason behind this behavior. That way you can plan accordingly. It's pretty simple really. No is a response that buys time. It doesn't really mean, NO! It means "I don't understand," or "I need more time to process what you are saying," or "I don't see what this has to do with me."
Because Aspies lack empathy, they don't bother to think about why you're asking or what might be your motivation. They don't consider doing something with you or for you, just for the simple pleasure of making you happy. They may want you to be happy but they can't fathom why that means they have to answer your question – especially since the way you phrase it makes no sense to them.
For example, you might say, "Honey, I was thinking of taking the kids to the coast this weekend. What do you think?"
He/She says, "Have a nice time."
You say, "Well I want to make it a family time for all of us."
He/She says, "You go and have fun. I don't want to go."
You say, "Well it's been a long time since you joined the kids and me for an outing. I'd like you to come along."
He/She says, "I don't have time to go. I have a lot of work to do."
You say, "Why don't you ever want to do anything with us?"
He/She looks at you as if you have two heads and says, "That's not true!"
I could go on but you get the picture. If you're a member of the Asperger Syndrome: Partners & Family of Adults with ASD Meetup, and you'd like to join 10 other NT members as we discuss this topic, please sign up for the next Video Conference: Why do they always say NO! on Thursday, April 14th 9AM PDT or Thursday, April 28th at 3PM PDT. There are still a few spots left. We'll explore how to get past this resistance so you can have meaningful conversations that actually get somewhere, instead of pure frustration. I'm not promising you they'll suddenly be a delight to live with, but there are some small detours around their penchant for saying NO!