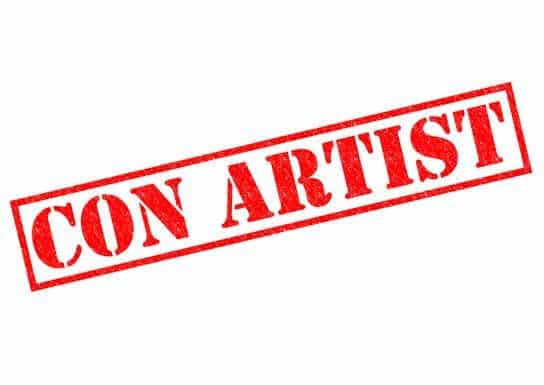 No one likes to feel manipulated or conned into doing something that they don't want to do, whether it's because of ethical reasons or personal preference. It leaves you feeling violated – understandably so. The word con is actually an abbreviation for confidence. Therefore the con game is really the confidence game. The success of the game is to create confidence within the victim for the manipulator.
By having confidence in the con artist, we're handing over our trust, or temporarily suspending our disbelief. No matter how outrageous the con's behavior, once that person has your trust and confidence, the con artist can have their way with you.
Some of you may already know some of the signals of a scam and pride yourself on escaping. Some of the less well-known signals are more intuitive, however.
What are some subtle signals that you're being manipulated?
Feeling ashamed without there being a good reason.
Feeling overly impressed or awed by a peer.
Feeling special or flattered by attention from someone you hardly know.
Finding out there's no pay off for you.
Discovering you're being used because you're doing more work than the other person in the relationship.
Always hearing "good" excuses for why the other person never seems to come through for you.
Less recognizable are the signals that YOU are doing the manipulation. If it's been your life pattern for a long time, you might not even be aware of it. Here are a few indicators:

1. How often do you say: "I didn't mean to…" Can this really be manipulation? Well, ask yourself how you feel when the tables are turned. Don't you feel mad, confused, hurt, or trapped? The person who uses the "I didn't mean it" con game is not taking full responsibility for their actions. It's as if no harm was done if the person didn't mean it. So the next time those words start forming on your lips, stop and make a straightforward apology for your actions and offer to clean up the problem, whether you committed the deed accidentally or intentionally.

2. Do you bully others into submission or charm them into acquiescing, when deep down inside they don't agree with you? Really, what kind of agreement do you have? How much support are you going to get in the long run? Have you increased your family's trust or are they just afraid of you?

3. Do you make frequent and generous promises which you don't fulfill? Perhaps you keep lunch dates waiting for hours, dismissing it with the excuse that you're such a busy person. You expect people to always make allowances for your "little foibles".
If you truly want to prosper as a family, then be committed to cleaning up these covert confidence games that you're playing with the ones you love. It can help to enlist the assistance of a dispassionate professional. If you live near Portland, OR/Vancouver, WA please contact my office and schedule an appointment, so we can work on making your family truly happy and secure.