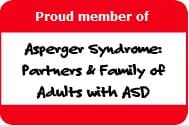 Can you believe it's been seven years? The free
Asperger Syndrome Partners & Family of Adults with ASD Meetup
was founded on April 5, 2009. And I've been offering the free international teleconference for two years now! Our first teleconference was held on February 21, 2014, and the worldwide response has been phenomenal! People are signing up months in advance.
There's so little support for families with children on the Autism Spectrum. And there's next to nothing for partners and families with adults on the Spectrum. This Meetup group and my books are really filling that gap.
If you're a member of the Asperger Syndrome: Partners & Family of Adults with ASD Meetup group, you know about the monthly free international teleconference and the paid video conferences.

Here's what one of our participants said about a recent Video Conference:
"This group has been a lifeline to me and I can see it is for so many others as well. Even though we were not in the same room, and even though we didn't have time to say very much; seeing each other's faces and expressions and interest level – on top of the fact that we "get" each other – was a monumentally positive experience. Very encouraging and uplifting, and the information learned was vital."
However, there are many other resources within the Meetup dashboard that you may not know about…
When you're a member of the group, you can listen to past teleconferences. Go to Discussions Tab, scroll down the page and click on Teleconference Meetups folder. Select the topic you wish to hear. Or login and click on this link to take you to the index of topics. Note: The more intimate video conferences are not recorded!
When you become a member of the group, you can also join ongoing discussions around informational, inspirational and fun topics.
If you're cautious about preserving your anonymity, you can use a pseudonym. However, we've made this a safe place to express yourself freely, so most members feel very comfortable with simply using their first name. Remember, this is a group for Neurotypical family members to get the support they need in dealing with the craziness of living with someone on the Spectrum. If that describes your situation, feel free to join us today.