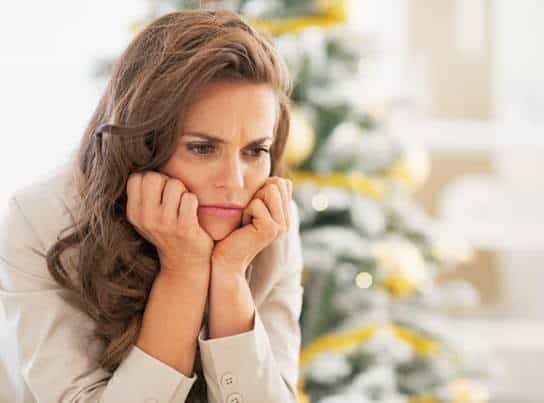 While the holiday season is a happy time for most people because it's exciting to get time off work and spend with family. For others the festivities become an unbearable stressor that creates greater depression in their lives.
Perhaps the loss of a loved one, financial pressure, divorce, or a job loss causes you to feel depressed. When you see everyone else is happy and joyful, you feel worse because you're not like them. It makes the depression seem so much darker in comparison.
How can you cope with depression during the holidays?
1. Don't overextend yourself physically, emotionally or financially. Know your limitations and say "No" when you must. It's an act of love to create these boundaries.
2. Rest more. That could include sleeping, deep breathing, or other relaxation methodology. Dealing with depression is exhausting, so you need time to recharge your mind and your body. This gives you strength to keep going.
3. Confide in a trusted friend. It's easy to isolate yourself when you're depressed, but being around those who love you reminds you that there's more to life. Their support is what you need to remind you that you're not alone. It can also distract you from thinking only about yourself. You'll find that the people around you are also dealing with difficulties. Recognizing that can give you some necessary perspective.
4. Don't expect too much of yourself and others. The "miracle of the holiday" isn't going to fix your problems like the movies portray. However, with forethought and planning, you may be able to initiate healing conversations since people may be more open to making peace. Cut yourself some slack. You're only human. When you're feeling down, find something that makes you feel good about yourself and do it.
5. Cultivate a grateful attitude. What are you grateful about you? Many have found that regularly keeping a gratitude journal really helps elevate their happiness.
I urge you, if your depression doesn't improve, speak to your doctor or a therapist immediately. They can help by providing you with the right tools to get you back on your feet. If you live near Portland, OR/Vancouver, WA please contact my office and schedule an appointment.
For more information, visit Overcoming Depression.