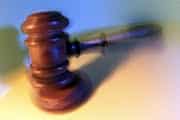 So many marriages end in divorce. This is especially true when there's a daily strain from the special needs of autistic children. While I can't determine how many special needs children have been affected by divorce in Oregon and Washington, I did find the following statistics:
During the first six months in 2015, Oregon has processed 3,098 divorces involving children 18 years of age or younger. Current Washington State statistics are not yet available. We do know that during 2013, Washington State processed 25,395 divorces and annulments.
This means that the potential is high for these extremely vulnerable children to be exposed to Divorce Court or child custody hearings. And while the judge and attorneys try to make decisions in the best interests of these children, they often apply rulings to autistic children that actually may harm them.
Take for example a Psychology Today article by Chantal Sicile-Kira. She discusses an example where custody of a child is usually split 50/50 with each parent. People knowledgeable about Autism and Asperger's Syndrome have shown that breaking an ASD child's routine and structure is detrimental to him or her. Of course, the Family Court System knows that all children need structure and routine, and they have a set of standards that meet the basic needs. Yet they are often unaware that this basic structure is not nearly sufficient to meet the needs of autistic children.
The court system has found it helpful to enlist the expertise of psychologists specializing in Autism and Asperger's Syndrome to give testimony as to the best interests for these children. These trained professionals help the judges and attorneys understand the critical importance of the special needs and practical ways these special needs can be met.
The Psychology Today article also provided three vital questions to ask a prospective attorney if you're faced with a divorce or child custody hearing:
"Do you have any experience with divorce involving special needs children, in particular autism and Asperger's Syndrome?"
"In past cases, have you been able to convince the Judge to take the child's special needs into account when considering 'the best interest of the child'?"
"Are you aware of the complex needs of a child with autism as they grow older, and how these complex needs should be considered in the Matrimonial Settlement Agreement?"
Are you facing a Divorce Court or custody battle in the near future? Please seek the assistance of a mental health professional who can help your children adjust to their new circumstances, as well as help the Court understand your child's special needs.
I'm licensed in psychology and social work, so I can provide this service for families in Oregon and Washington. I'm eager to educate and consult with those in the legal profession so they can make the best decisions for children with ASD. Please contact my office and schedule an appointment.
Also check out my Remote Education on Asperger's Syndrome.