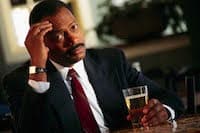 Alcoholism
and other drug abuse is an epidemic in our country. It's so wide spread that our schools have developed substance abuse prevention programs to educate our youth. The courts are less tolerant of alcohol related traffic infractions. And who hasn't heard of the rehab centers the movie stars and politicians check themselves in and out of?
Substance abuse lowers production, increases accidents, lowers quality work, and contributes to the loss of skilled employees. To combat this, employers have established employee assistance programs and redesigned insurance benefits to create treatment options for employees. These programs treat the addict AND the family, because the strength of the family determines the addict's success in treatment.
Employers want to rehabilitate and return a healthy employee to the job. Yet among family firms, drug addiction and alcohol abuse are frequently overlooked. Many people who work in family firms, yet are not family members, talk about the "secret" at work. The secret that everyone knows – that there's a family member who is abusing drugs or alcohol. Yet no one does anything about it. The family member is protected not only by the family, but by a general conspiracy among employees.
While the function of the family is to nurture and protect its members and usually takes precedence over the welfare of the business or other non-family related employees, this isn't helping the alcoholic or the drug addict.
To overlook, condone, deny, rationalize or minimize the problem for the sake of keeping the family system in tact is a misguided sympathy. Allowing addictions to go untreated is no way to take care of either the business or the family. By ignoring the problem the addict accepts this as tacit approval of their behavior. This causes the potential threat to the integrity of the family and business to grow. Alcoholism and other addictions leads to the breakdown of the family, just what a family firm wants to avoid.
How can the addict get help, while being reassured that he or she has the backing of the family and business? There are a variety of resources available. If you live near Portland, OR/Vancouver, WA please contact my office and schedule an appointment to discover the right treatment for you or your loved one. With the support of the two most important systems in one's life, the addict has increased potential to succeed in treatment. They have a loving family and they have a job to come back to.
Read more on my website: Alcoholism Recovery and How Friends Can Help.