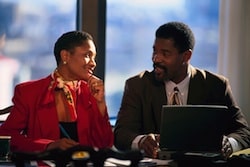 According to the
January 2015 Gallup report
, "400,000 new businesses are being born annually nationwide, while 470,000 per year are dying. And of the estimated 26 million businesses in America, 20 million of these reported businesses are inactive companies that have no sales, profits, customers or workers. There are only 6 million businesses in the United States with one or more employees. Of those, 3.8 million have four or fewer employees – mom and pop shops owned by people who aren't building a business as much as they are building a life."
What do successful entrepreneurial couples know about keeping a marriage and a business on track that you should know, too? Whether in business or marriage, problem solving requires gathering information. It just makes common sense to find out what successful entrepreneurial couples know and do that works for them. Out of these strategies, you may find a nugget that applies to you and your spouse.
Do you apply the 100% – 100% Rule?
As a family business coach, over the years, I have had the opportunity to meet many entrepreneurial couples and there's a pattern among those who have long-term happy marriages interwoven with a prosperous business life. First and foremost they follow the 100% – 100% Rule. That is, each partner considers her or himself 100% responsible for the quality of her or his individual life as well as their joint ventures (i.e., parenting, household duties, managing and promoting a business).
While most couples follow a 50% – 50% Rule, meeting each other half way, by following the 100% – 100% Rule entrepreneurial couples meet each other all of the way. They each put his or her whole self, talents, intuitions, and muscle into the relationships of marriage and business partnership, making each equally responsible for the outcome. Even though for efficiency's sake they may divide up duties along the lines of who is most capable or available, they still consider themselves as responsible as their partner for the success of the goal.
What often get's in the way of implementing the 100% – 100% Rule? Worrying about ego or pride, which is a waste of precious energy that can better be used in pursuit of your dreams or being creative. It's better to re-direct your achievement need toward the things you do best at the business or at home. That way not only do you succeed, but your spouse, family, business and community benefits too. What better way to express the 100% – 100% Rule!
If you need an outside arbitrator to settle an ongoing family/business problem and you live near Portland, OR/Vancouver, WA please contact my office and schedule an appointment. Did you know you can get remote education too? Check out Remote Education for Entrepreneurial Couples.