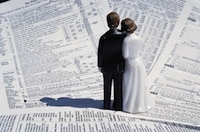 In
my latest interview
on my work with entrepreneurial couples I discussed with British Journalist, Mark Williams that the main problem when working with loved ones is linked to relationship intensity. Since we care more about what they think of us and vice versa, the work and home environment can become ripe for conflict.
Perhaps you, like many other couples, are contemplating choosing the entrepreneurial lifestyle. While there are great risks to choosing this lifestyle, there are also many rewards. To provide a basis for resolving the inevitable conflicts, there are three essentials skills that couples would do well to contemplate before starting this entrepreneurial journey together.
Know Yourself as an Individual
I believe that those who have proved themselves capable as individuals before starting a business together usually do much better. Then you both know that you could do it alone, but that you'd rather run your business with your loved one. That's a strong position to be in.
Assign Specific Responsibilities
To help create clear boundaries, it's important to assess the strengths of each individual and assign responsibilities according to the abilities that each marriage/business partner has, not portioning them out because "that's a man's job" or "that's what women are supposed to do". What matters is what will work for you as a couple.
Good Communication
Drawing a convenient line between personal and business isn't realistic. Couples need to be good at transitioning between the two, which you'll need to do many times each day. Without good communication skills and quality time dedicated to communicating, relationships soon flounder and fail. In relationships and business, open and honest communication can ensure that minor issues don't develop into major problems. Problems must be recognized and worked through to mutual agreement. So what boundaries will you set as to when and how you communicate about family and business matters?
The most important thing to remember is to always put love first. Without it – who would you share your business successes with? Don't compromise to avoid conflict. And follow your dream, as long as your spouse really shares that dream.
Want a great resource that helps families in business stay up-to-date with the best strategies for making a success of Work and Love? Sign up to receive my monthly Entrepreneurial Couples Newsletter.
You can also start connecting with other entrepreneurial couples via my new Meetup, ENTREPRENEURS: Making it Work for Couples and Families.
For more information of the Entrepreneurial Lifestyle, read on my website – Entrepreneurial Life.