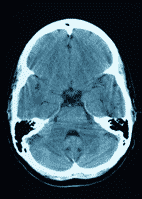 Science is making giant strides in brain research. Many scientists are devoting time to studying the brain from various angles. A recent article on CNN, "
Scan a brain, read a mind
", discussed some of these ongoing studies.
Here are some highlights from these studies:
ATR Computational Neuroscience Laboratories, Kyoto suggest it's possible to decode our dreams based on brain activity.

The BrainLab at the Georgia Institute of Technology is trying to create thought-directed wheelchairs and artificial limbs, which would greatly assist people with disabilities.

University of Washington researchers are studying how brain signals can cross the internet – so far they've been able to control the hand movements of the second participant.

A University of California, Berkeley group is trying to determine how the brain responds to language. They hope to eventually be able to decode our very thoughts based of brain activity.

Marvin Chun, professor of psychology at Yale is working on studying what happens when people's minds wander or are "zoning-out".

Dr. Josef Parvizi, a neurologist at Stanford University, is working on how the brain retrieves memories.
The study that interests me the most is the one that could, in time, assist those with autism to "read" faces so that they can respond more appropriately in the social situations.
Alan Cowen, while an undergraduate at Yale University, conducted a study using fMRI (functional magnetic resonance imaging) scans. The brain was scanned as a person viewed hundreds of pictures of faces. The researchers noted what areas of the brain were reacting to the facial images. They then used a computer to generate what was recorded in the brain mathematically. The CNN article has a bank of pictures showing the actual images and then the computer-generated image based on the brain activity patterns. (Click here to see them.) It's remarkable how identifiable they really are. Wouldn't it be terrific if they could pinpoint and fix the area of the brain that causes the perception disorder in Autism?
Until that time, how can we assist those on the Autism Spectrum Disorder? Since this is still Autism Awareness Month, join me on Facebook at (https://www.facebook.com/Kathy.Marshack.Ph.D) and share what you're doing to help an individual or an organization dealing with Autism.