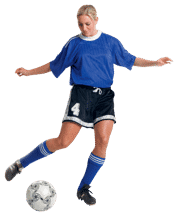 When the news reports on sports concussions, often it discusses male
football players
. Seldom, if ever, are female athletes mentioned. Yet they suffer concussions as well. Katherine Snedaker, MSW of PinkConcussions.com and Dr. Jimmy Sanderson and Dr. Melinda Weathers, two researchers from Clemson University, are gathering applicants for a
national study of female athletes
18 years and older to research the past and present affects of concussions. These can be sports or non-sports concussions. Also being researched is why these incidents are being underreported. This is important research and I encourage you to
check it out
to see if this research is appropriate for you or someone you know.
Brain trauma can cause dementia, headaches, light sensitivity, memory loss and encephalopathy. It can also be responsible for changed behavior, such as irritability, anger, depression, suicidal thoughts and actions, learning problems, poor decision-making skills and subsequent substance abuse. But you don't have to accept that this is what you have to endure for the rest of your life.
Much of the damage caused to the brain can be rehabilitated. If you or someone you love is experiencing mental side effects after a concussion, speak to your doctor immediately. A holistic approach to the health of the mind and body can put you back in control of your life. You can learn how to use your own natural healing power to regain health. Couple this will good nutrition, regular exercise and changing negative lifestyle behaviors and you've begun your journey to optimal health and wellness.
The mind and body are in a state of constant communication. What the mind thinks and experiences is sent from the brain to the rest of the body and vice versa. If you want to improve your mind-body communication, consult a NET practitioner who can remove the blocks so your body can repair itself. If you live near Portland, OR/Vancouver, WA, contact my office and set up an appointment so your healing can begin.
Learn more about Mind and Body Health on my website – Holistic Health.