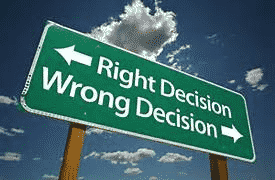 Many don't realize that making good decisions is not based on high IQ. Rather it's based on
how perceptive you are with your emotions
. Those of us who feel our feelings, interpret them correctly, and then act upon that information, have an advantage over those of us who rely solely on intellect to make decisions.
A recent article in the New York Times by Noreena Hertz, a professor of economics at University College London, caught my attention, Why We Make Bad Decisions. When she was confronted with a debilitating health problem, she became interested in researching through the academic literature in the fields of economic, neuroscience, psychology, sociology, information science, political science and history to discover the various factors that cause us to incorrectly process challenging news.
Research show that there are a number of the factors that influence our decisions such as:
Our perception of "expert advice."

A 2009 Emory University experiment

showed that when a group of adults was confronted by an expert's claims, they simply gave in to the advice without any further thought of their own.

Anxiety, stress and fear.

These negative emotions can make us see only a narrow view of the situation so we become more conservative and less likely to take risks.

Natural born optimism

.

Neuroscientist Tali Sharot conducted a study

that showed that people tend to ignore new information if it reveals that events will turn out worse than expected. If people think "it can't happen to me" even unconsciously, they'll grasp at information that agrees with the outcome they want. When information supports our hopes apparently we get a dopamine rush similar to when we eat chocolate or fall in love.
This information is empowering. It can help you to avoid mind games or self-told stories to rationalize your decisions. Instead, you can take control of your decision making process by acknowledging your feelings and then ask probing questions as you evaluate the pros and cons involved.
Often it helps to talk things through with another individual. If you're faced with a life-changing or business decision that has you perplexed, seeking the counsel from a professional will help. A psychologist is skilled at helping you sort out your choices and get clear on your objectives when making big decisions in life. If you're ready to gain that kind of clarity in your own life, make an appointment with my Portland, OR/Vancouver, WA office.
Learn more on my website: Entrepreneurial Life.