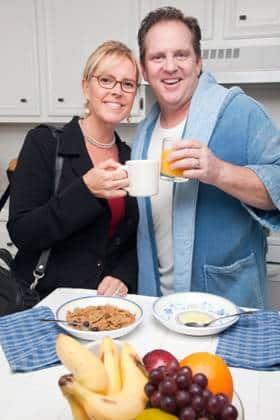 In spite of the multitude of studies on entrepreneurs, psychologists have yet to come up with a reliable instrument to assess the qualities that may lead to successful entrepreneurship. In a 1991 report, Donckels and Frohlich compared the values and attitudes of entrepreneurs in family-owned and non-family-owned businesses. Using eighty-five value indicators taken from the literature on entrepreneurs, these researchers developed a questionnaire and administered it to European business owners. Here are some surprising findings…
There are three parts to determining the type of entrepreneurial couple that best suits you and your spouse.
#1. Determine whether you are a solo entrepreneur with a supportive spouse, a dual-entrepreneurial couple, or a copreneurial couple. How will you handle the roles in business and family life as a couple? Who will do what task? Will one of you take the lead in making decisions?
#2. Determine your/your spouse's entrepreneurial personalities. The above study discovered four types of entrepreneurial personalities. They are:
The all-rounder is the versatile, universally responsive, and adaptive entrepreneur. He (or she) is his own designer, accountant, salesperson, and frontline manager.

The routineer represents the cautious entrepreneur who is more interested in providing an income for his or her family than in being innovative and taking risks.

The organizer is the administrator and executive type of entrepreneur, applying rational, analytical, and organizing strengths with empathy.

The pioneer is the dynamic, creative entrepreneur who is innovative, takes risks, and has visions for the future.
#3. Determine whether your business is a family or non-family enterprise.
These three factors will help you begin to see your unique entrepreneurial couple style. Identifying the qualities that are most applicable to you, your partner, and your situation, can help you make the most of my book, ENTREPRENEURIAL COUPLES: Making it Work at Work and at Home. Check it out if you don't have it yet. As you read about the styles of other couples, you will be in a better position to understand your entrepreneurial style. By the end of the book, you may even wish to renegotiate the terms of your partnership and business. It's now available as a Kindle edition.
Read more on my website – Couple in Business. And be sure to sign up for my monthly Entrepreneurial Couples Newsletter.