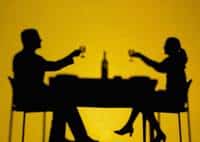 For couple entrepreneurs, the worlds of love and work are not separate but are in dynamic interaction with each other.
Over the years I have met many adults who grew up with entrepreneurial parents and regretted it. Many have vowed never to be self-employed themselves because they felt deprived of a childhood by the demands of their parents' business. On the other hand, there are entrepreneurial parents who insist that their child become a physician or lawyer in order to avoid the hard work of entrepreneurship, when all the child wants is to follow in the parents' footsteps.
How can an entrepreneurial couple make sure their family doesn't regret their life and business choices? The two most important elements of making good decisions that provides a good balance for love and work are:
· The decisions you make regarding your work will have an impact on your spouse and family.
· The modeling you provide for your children today will influence them for a lifetime.
For example, copreneurs Mike and Karla, a young couple still in their twenties, were not prepared for the overnight success of their family business. Mike, a pioneer, worked long hours at the office, while Karla, a routineer, tried to juggle her responsibilities as the personnel manager and the mother of two small children. Still, the money rolled in, and Mike and Karla had plenty of desires to fulfill. They bought new cars and a boat, and built a new million-dollar house.
With a nanny to watch the children, Karla devoted even more time to the business, and so did Mike. They would care of the children each night and, without taking time for dinner themselves, would try to relax over a drink and talk. Nightly fighting became the routine. When Mike, in a fit of rage, threw a bottle of liquor at the mirrored family room wall, shattering glass all over the room, Karla realized that their lives were out of control.
Mike and Karla had a lot of work to do to restore sanity to their lives. Through their pain, they learned that work and home life are not separate, but more to the point, they learned that you cannot make one more important than the other. The lure of money and the ever-increasing demands of the business blinded them to the needs of their children, their relationship with each other, and
their own individual health.
If you are a family in business, you can learn much making the best decisions by enlisting the help of a family therapist. Contact my office if you are interested in setting up an appointment.
For more information take a look at my book, Entrepreneurial Couples Making it Work at Work and at Home. Now available on Kindle!