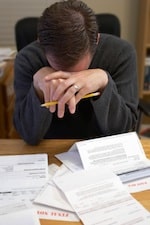 Are you struggling to pay your medical bills? If so, you are not alone. In 2011, 48.6 million Americans were uninsured and out-of-pocket healthcare costs average out to $3,280 for a family of four. Many feel powerless against the rising costs. Can anything be done? 
CNN.com posted an encouraging article entitled – 4 Ways to Control Your Health Care Costs. Here are a few of the practical tips they suggested to help lower your health care costs:
  
Ask – Ask your doctor what the cost of the procedure is. Is there a less expensive alternative or a generic option? Are all the tests they are running necessary for diagnosis? Explain your cost concerns and look for alternatives. Dr. Jeffrey Rice, creator of HealthCareBlueBook.com commented, "(People) frequently overpay for services just because they don't know that there's price variation — that you can get the exact same care at a different facility across the street for a fraction of the cost."
Stick to Your Provider – Going outside of your network's providers will add on extra money. Sometimes it's worth it to you to get a doctor you know and trust but make sure you think it through.
Talk to Your Pharmacist – Talking to your pharmacist is free. They are highly educated and knowledgeable. They may be able to recommend alternatives and generics to help save you money.  
Research  – Use online tools like HealthCareBlueBook.com, HealthPocket.com, and GoodRx.com to compare prices for insurance, medication, and health care services. If you have problems or questions in regard to your health insurance, use Consumer Assistance Programs available through HealthCare.gov. 
 

You need to be proactive about healthcare. It is your life and your money. For more information, read – A Fight for the Right Kind of Health Care.