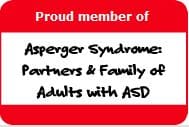 No one can fully understand what it is like to be in a relationship with someone with Asperger Syndrome unless you have walked in those shoes. I often blog my observations as a psychologist regarding the life of a Neuro-Typical married to an Aspie and co-parenting with an Aspie. It's a tough road that many of these women (and some men) are on. In a recent blog, I wrote about how empathy is often lacking in Asperger relationships, but it can be found amongst others who deal with a similar situation. I want to share the value in finding others who understand your situation. 
Here is a compilation of a few comments that I believe explain the value of finding those who understand you:
"This is the one and only place I can go to really be fully understood. Thank you Kathy for the topic and clarifying "empathy." I can identify with everyone who shares at these meetups, EVERYONE." 
"Thank you everybody for sharing your time and stories. I can't tell you what it means to have found a place to feel seen and heard. Oh, and to feel some empathy for the lack of empathy in my relationship! The best part is when I hear something that is so familiar to me." 
"I was so, so blessed to have been in the company of each and everyone of you today! Thank you for your stories, your insight and assurances!" 
These testimonials are the reason why I found it so important to write for the Neuro-Typical audience. My book, Life with a Partner or Spouse with Asperger Syndrome: Going Over the Edge, focuses on the NT partner and how to arrive at a new understanding of themselves and their significant other. My upcoming book, Out of Mind – Out of Sight: Parenting with a Partner with Asperger Syndrome, tackles the issues of parenting with an Aspie. Download a free sample chapter of both books. 
And do not give up on your search for empathy!