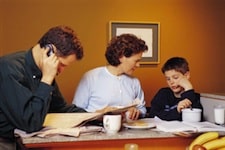 Great news! My new book, Out of Mind – Out of Sight: Parenting with a Partner with Asperger Syndrome, is finished. I wrote this book to specifically address the unique issues that come up when you're co-parenting with an Asperger Syndrome partner.
In this book, there are extremes on both ends such as poignant stories with deep despair along with progressive thrills of discovery. I focus on the harsh realities that NTs (Neuro-Typicals or without Asperger's) face when co-parenting with an Aspie. I discuss the NTs' fears and anguish and losses. I also give you hope and ideas on how to co-parent more successfully. But it is important to recognize that if we don't reveal the dark side of these relationships, we can't search for solutions to the all too real problems of the AS/NT family. The last thing I want to do is leave NT parents with the feeling that they are alone. Erasing that aloneness is the first step toward parenting successfully with an Aspie co-parent.
If you're parenting with an AS partner, I believe you should learn all you can about Asperger Syndrome because information clears up the mystery of the Aspie behavior. This will help you detach from the emotional distress of reacting to those not-so-ordinary moments.
Out of Mind – Out of Sight: Parenting with a Partner with Asperger Syndrome will be available very soon. I am eagerly anticipating its release and will keep you updated through my blog and the Enriching Your Life Newsletter.
Until then, please download a free sample chapter! If you live in the Portland, Oregon/Vancouver, Washington area, please join me for the Asperger Syndrome: Partners & Family of Adults with ASD Support Group on November 17, 2012. The topic for discussion is "How to Find and Work with a Decent Psychotherapist." Hope to see you there.