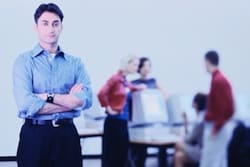 Do you or someone you know have
Asperger Syndrome
? Are they looking for a job? Since Asperger Syndrome
impairs nonverbal social interaction
, landing and keeping a job can be intimidating. Would like to know how to effectively navigate through this situation?
The book, The Hidden Curriculum of Getting and Keeping a Job: Navigating the Social Landscape of Employment A Guide for Individuals with Autism Spectrum and Other Social-Cognitive Challenges, is a practical guide for teaching the "unwritten rules." These "unwritten rules" are not so obvious for someone on the spectrum. For instance, how to talk to your supervisor, networking, or dealing with frustration.
Two of the three authors are on the spectrum and can speak from experience. I recommend it for anyone on the spectrum, young or old, who is looking for work or looking to improve their social skills in the workplace.
AAPC is the publisher of The Hidden Curriculum. Click here if you are interested in purchasing your own copy.