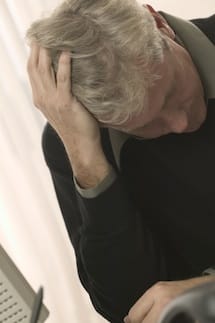 Depression can take a serious toll on a person's life. Not only will it impair daily living, but it can also put you at risk for long-term problems.
The Archives of General Psychiatry
published a study about how depression that strikes during middle age creates a greater risk for dementia in the future.
By studying 13,000 people during midlife (40's and 50's) to their 80's, those who did have symptoms of depression were 20% more likely to have dementia in old age. If they received a depression diagnosis later in life, they were at a 70% risk of dementia. Interestingly, timing played a role in the type of dementia. Depression diagnosed in midlife was linked to vascular dementia while later in life depression it's linked to Alzheimer's. For more information on this fascinating study, read Depression in middle age linked to dementia.
It is still unknown if treatment for depression would change the likelihood of dementia. Regardless of the answer, depression should still be treated and the good news is that depression is treatable. To learn more about available treatment options, visit Overcoming Depression.