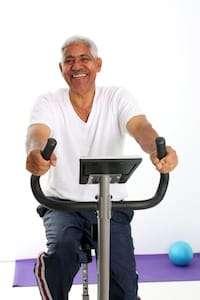 Would you like to decrease memory loss? No doubt you would. Losing memory is sadly a product of aging, but studies show that there are two simple things you can do to lessen your odds of memory loss.
The Mayo Clinic released a study about how combining computer use and moderate exercise can lessen memory loss in older individuals. The key is to combine these two activities because you're exercising both the mind and the body. Focusing on the 70 to 93 age group, the study showed that those who were not physically active and not active on the computer, 21.1% were cognitively normal while 37.6% showed signs of mild cognitive impairment. On the other hand, those who are moderately active and used the computer, 36% were normal and 18.3% had signs of mild cognitive impairment.
So, if you are interested in keeping your brain healthy, get active mentally and physically. It is important to note that being mentally active is not limited to computer use. Any activity that is mentally stimulating is beneficial for the brain. Choose physical and mental activities that you enjoy.
Take care of your brain. It is a valuable asset! For more information on the mind and body connection, visit Holistic Health.