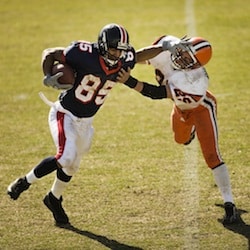 In January, I wrote
a blog
discussing the dangers associated with playing sports like football and soccer. Dr. Daniel Amen, a well-known physician and psychiatrist, has been speaking out about these dangers for years. What is the reason? Head injuries related to contact sports can cause dementia, depression, memory loss, and encephalopathy.
This topic has been recently exposed in the NFL. There are now 2,000 players suing the NLF stating that they were not aware of the dangers and that they were deliberately hidden from them by the NFL. Ray Easterling, who played for the Atlanta Falcon's, committed suicide in April after years of suffering from dementia. His widow, Mary Ann, is holding the NFL responsible stating that they could have done more to protect her husband's health. This lawsuit is intended to change how the NFL handles this vital information. Those suing hope that it will help those who are in need of medical attention and make the game safer in the future. For more on this breaking news read 2,000 Players Unit in Suing NFL Over Head Injuries.
I also encourage you to view this interview with Dr. Daniel Amen – especially if you have kids playing sports. He speaks about concessions and their long-term effects on the brain.